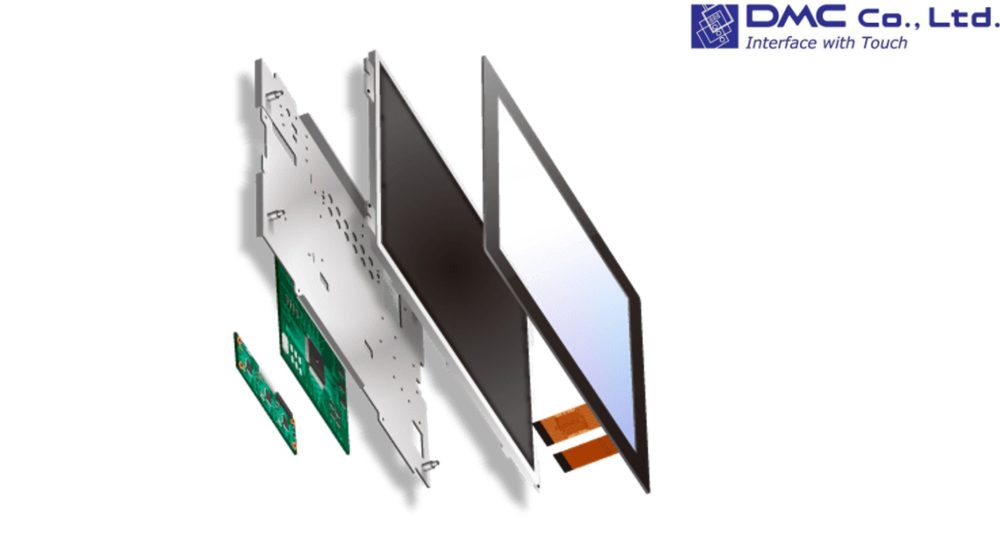 The DMC's DUSH brand enables the expression of originality in products, which has been difficult for device and unit manufacturers to do on their own. The DUSH brand developed by DMC realises a product supply system that can express originality, which has been difficult for device and unit manufacturers alone. DMC offers tailor-made touchscreen devices and units that can be supplied in accordance with the image.
The polarised touchscreen industry
In recent years, touch screen LCDs have been used in various fields. In the industry, there are two groups of traditional buyers: manufacturers who produce devices and modules, and unit manufacturers who incorporate the provided devices or modules into industrial equipment, among others. However, the latter group of manufacturers often face the challenge that each company has its own expertise (in different industries, for example) and varied design concepts, while they face supply methods of regular device and module manufacturers that are often standardized.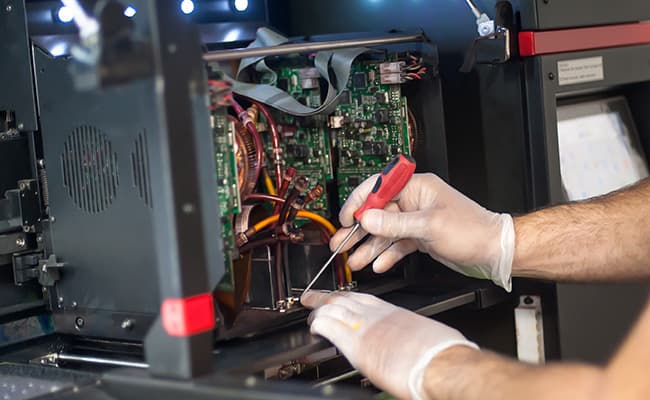 Forms of supply touchscreens that pose a challenge
As a result, if the provided products do not match the user's requirements, situations may arise where peripheral parts need to be outsourced separately or consider the waste of including unnecessary components that can be manufactured in-house. Therefore, users must search for manufacturers that offer products tailored to their own needs from countless domestic and overseas manufacturers.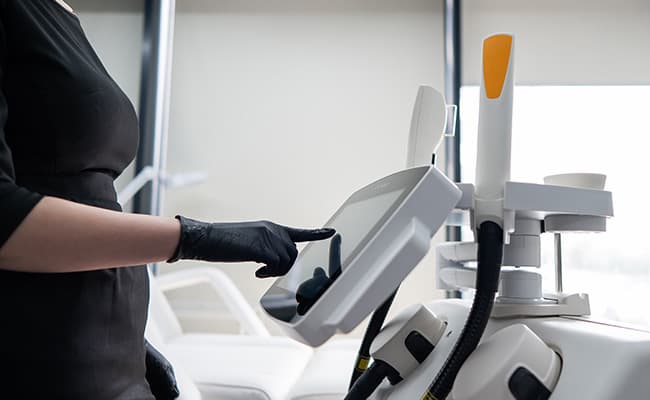 Touchscreen modules that can be freely combined
Therefore, DMC offers touchscreen LCD modules that can be customised to suit the design concepts of different customers and products. The line-up includes LCD + touchscreen, LCD + touchscreen + video processing board, LCD + touchscreen + video processing board + sheet metal chassis, and other touchscreen module components that are easy to use for unit manufacturers. The company covers everything from sales of touchscreen sensor products alone to sales of intermediate device module products and unit products.
Touchscreen + LCD /

SIMPLE SET – TK-S SERIES

A touch screen device is attached to the LCD. There is a wide range of sizes from 4.3 to 21.5 inches, and each product has a choice between resistive and capacitive touch type. Since resistive touch controllers are often selected independently by customers, a controller is included only when a capacitive type is selected.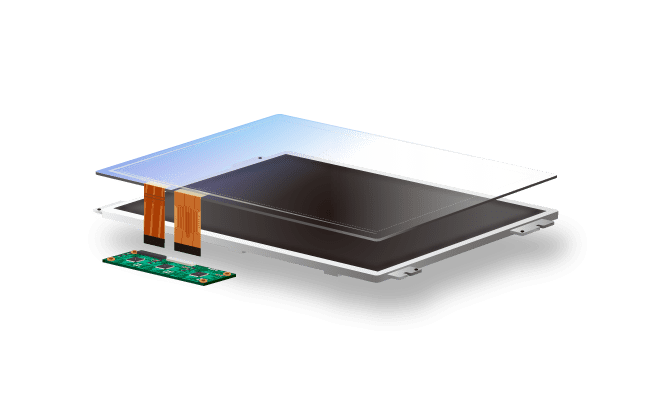 Touchscreen + LCD + LCD Controller /

SIMPLE SET Plus – TK-S SERIES

The LCD Controller board is added to the simple set. All of the video processing boards in the lineup have acquired an official HDMI license, so you can use them with confidence. VGA and DVI type LCD controller boards are also available as an option. In addition, a touch controller is included in all products after this sales model.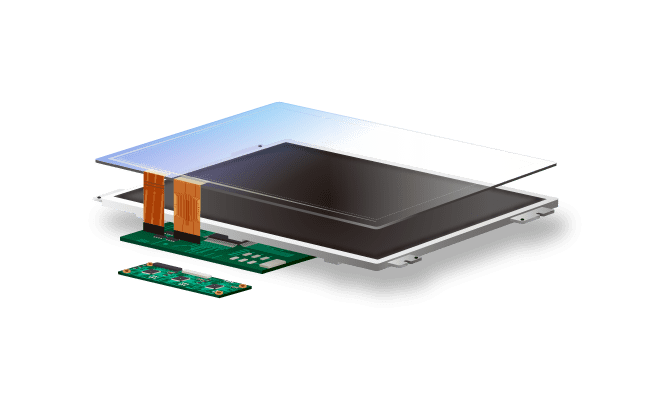 "LCD + Touchscreen+ LCD Controller + Sheet Metal Chassis / BASIC SET – TK-B SERIES
The Basic Set is an open frame type touch monitor assembled with the above parts and touch controller. It is a touch monitor with a structure that is easy to integrate into the customer's product, greatly reducing the burden of product integration design and ensuring simplicity of internal wiring.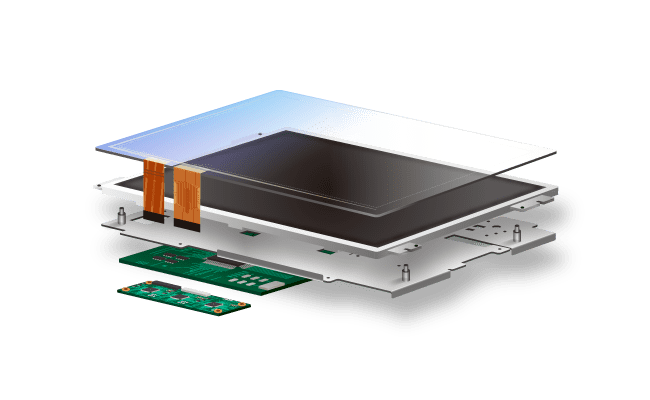 Customization
The TK series can be sold in a form that meets the customer's needs, and there is another advantage. Incorporating various options into the flexible sales format, DMC can develop products that align with customers' specific requirements.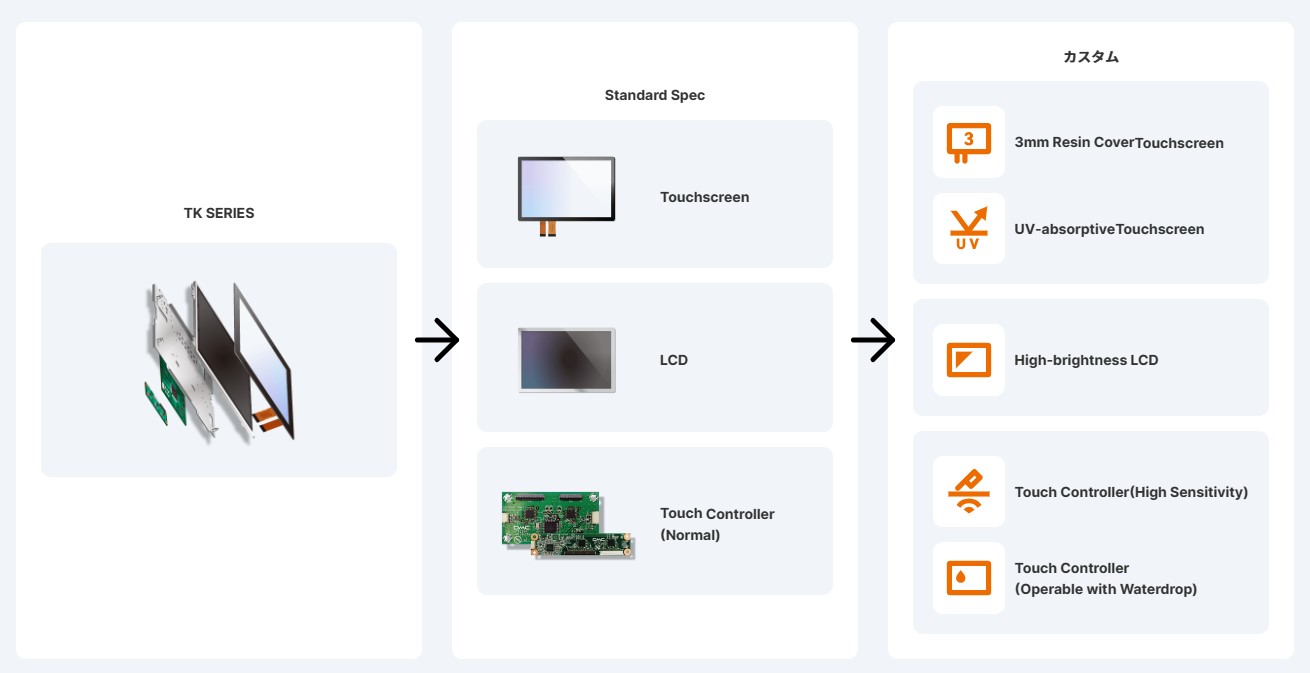 In the case of users developing outdoor EV chargers and similar products, they will first need a high-brightness capability for the LCD. Next add a unique touch screen that protects the LCD from intense ultraviolet rays, a robust resin cover that can withstand blows and impacts, and a touch screen controller that can withstand moisture from the rain. Now the customer has a complete product with ideal weather resistance.
Other examples include antiviral films for medical equipment, resistive touchscreen that allow gesture operation, and LCD Controller boards that can use either VGA or DVI to connect the industrial equipment interface. DMC can offer these technologies and products to users because of their experience of over 30 years in industrial markets worldwide.
TOUCHSCREEN-MODULE /
SIMPLE

SET /

TK-S

SERIES /

Touchscreen/

LCD
'SIMPLE SET' of touchscreen sensor, controller and LCD (Liquid Crystal Display). LCDs with touchscreen operation can be introduced. Pinpoints the design needs for a monitor module that does not spoil the design with excellent customisability in development products.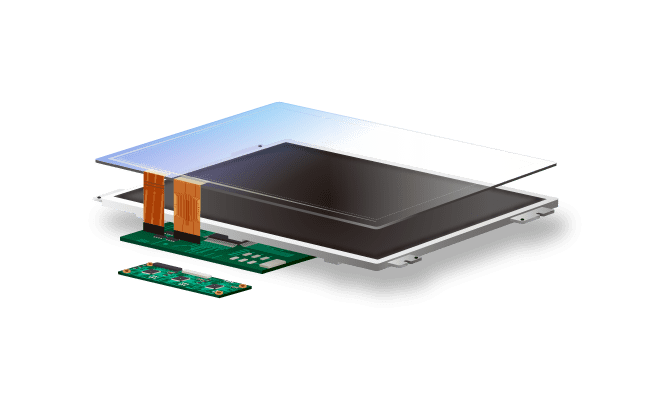 TOUCHSCREEN-MODULE /
SIMPLE

SET

Plus /

TK-S

SERIES /

Touchscreen/

LCD/

HDMI Board

'SIMPLE SET Plus' with touchscreen sensor, controller and LCD (Liquid Crystal Display) plus HDMI Board. Standard HDMI input is added to the LCD with touchscreen operation. Can be used immediately after purchase as an LCD with touchscreen. You can choose the configuration pattern best suited to your monitor module design.