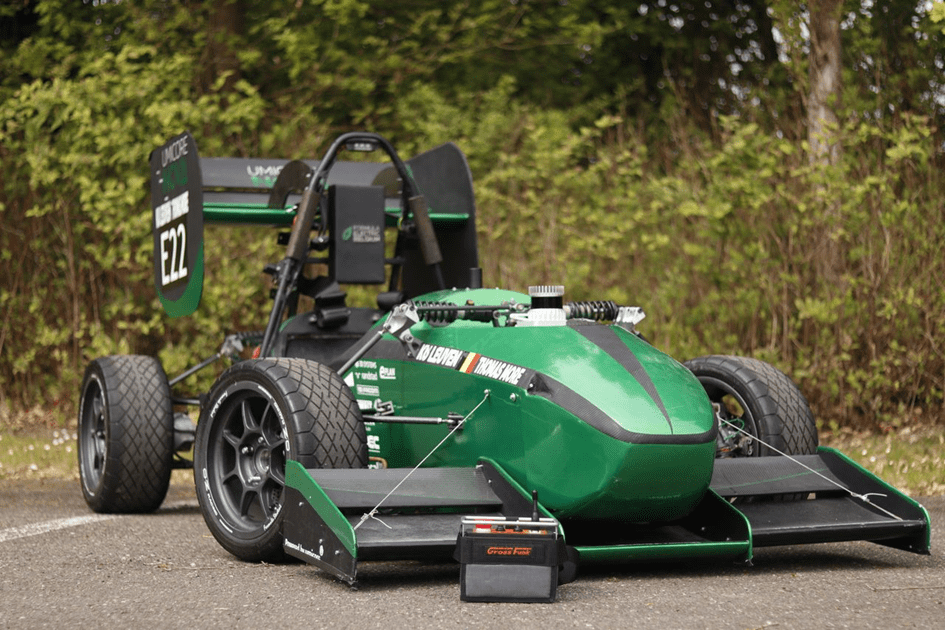 Formula Electric Belgium is a racing team, run by students from KU Leuven and Thomas More. Every year an electric racing car is built by a team of students, to participate in several racing competitions. Nijkerk Electronics supports Formula Electric Belgium with different components used inside the battery and dashboard. We spoke with Wout Vanderwegen (Formula Electric Belgium team member) about the challenges and the cooperation with Nijkerk Electronics.
Goals
The main goals for Formula Electric Belgium this season were to build a reliable racing car to compete in competition and to build an electric racing car that could drive by itself. Wout Vanderwegen: 'For this year's car, named Titan, the goal was to make a racing car with a simple design in order to make it reliable and create upside potential for the future. Furthermore, we wanted to make a racing car that could drive by itself. For this self-driving car, we chose our 2016 car and developed this into a self-driving car named Super Nova'.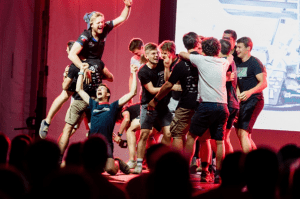 Results
Results in different competitions came quickly. For the first time in history a racing car from Formula Electric Belgium, the reliable Titan, participated in the Formula Student Netherlands race. Wout Vanderwegen: 'This really gave a big boost to our team and motivated us even more to do better in other competitions'. A 7th place based on acceleration was scored in the FS East competition, but unfortunately was taken away because the car had gone beyond the allowed power limit. A 5th place was taken in the Endurance competition, a competition with 36 other teams. The highlight of the summer was the race in Croatia. A 6th place based on acceleration was scored in a race in Croatia, this time within the power limit. But more importantly, the first podium was scored with a 2nd place for most efficient racing car in the competition. A price that got the whole team super excited, as shown in the picture below.
Dwin display
Nijkerk Electronics supplied the team with the DMT48270T043-03WNZ6 display from Dwin. The display mainly serves as the first source to pass on information about the car to the driver, but also from the car to the team. This way error messages that occur can easily be seen. Wout Vanderwegen: 'The display had to be easy to work with and control. The resolution also had to be high enough so that we could still read small numbers properly. We ultimately opted for this display because the resolution was good. And the screen came with software that allowed us to choose the layout in advance, set it and save it to an SD card, then adjust the layout with simple commands from a microcontroller.'
Gigavac relays
The car uses a 600V Lithium polymer battery. This battery is divided into 6 segments each with 2 modules of 12 cells with 2 in parallel each. That gives a total configuration of 144s2p. Wout Vanderwegen: 'The Gigavac relay is one of the most important safety components in our battery. This connects the high voltage of the battery to that of the car. And can also remove this high voltage from the car at any time through these relays, for the safety of our driver. We used the Gigavac GX23CCC because they can manage our high voltage and high current. The switching itself is done with 24 volts (the voltage of our low voltage system). They also have auxiliary contacts with which we can check whether the relays are switching effectively and thus also create extra safety.'
The other Gigavac relay used is the G12SP. Wout Vanderwegen: 'We use this to "precharge" our high voltage lines. This is necessary because our motor drives have a very large capacity. We chose the G12 because it can handle our maximum voltage, has auxiliary contacts and is smaller, lighter. It can be smaller and lighter because a much smaller current is required for precharging.'
Nijkerk Electronics supplied the team with Gigavac relays GX23CCC and G12SP. Wout Vanderwegen on these components: 'We are very satisfied with the Gigavac products. We have been using these for years and have never experienced a failure of these components, which is very important to us. They are also light and perfect size for our battery.'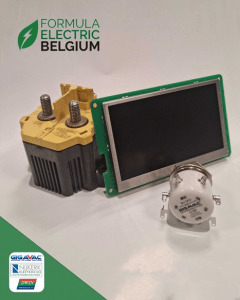 Great collaboration with Nijkerk Electronics
Wout Vanderwegen is very satisfied with the collaboration with Nijkerk Electronics. 'Nijkerk has been a sponsor for many years. Even before my time at Formula Electric Belgium. When we need something, they always supply us with the necessary components. They are also open about lead times and they come with solutions if the lead time of certain products is too long.'