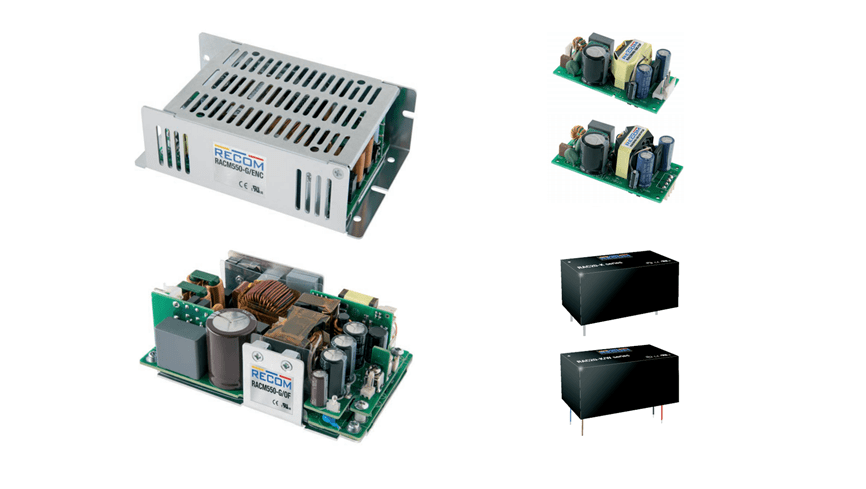 Safety standards are an important consideration in the specification of an AC/DC or DC/DC converter.
Standards continuously evolve and their requirements differ between end applications, sometimes significantly.
IEC/EN 60950-1, along with IEC/EN 60065 are due to be withdrawn completely in December 2020.
An alternative, IEC/EN 62368-1, now applies but there may also be other standards that are more appropriate to the end application.
This paper by Zentralverband Elektrotechnik und Elektronikindustrie e.V. (ZVEI) gives guidance on the selection of the right standard to apply.
Recom has an extended range ACDC converters, compliant, or pending, to the new IEC/EN 62368-1 standard. Overview here below.
Also DCDC converters for certain applications can be affected. Contact us for more info if needed.
Topology

Series

Peak

Fanless

Build

IEC/EN62368-1

Link datasheet:

ACDC

RACM550-G

550W

300W

Open frame

Certified

or enclosed

ACDC

RACM230-G

230W

160W

Open frame

Certified

or enclosed

ACDC

RACM60-K/OF

60W

60W

Open frame

Pending

ACDC

RACM40-K/OF

40W

40W

Open frame

Pending

ACDC

RAC20-K

20W

20W

Plastick housing

Certified

ACDC

RAC15-K

15W

15W

Plastick housing

Certified

ACDC

RAC10-K

10W

10W

Plastick housing

Certified

ACDC

RAC05-K

5W

5W

Plastick housing

Certified

ACDC

RAC04-K

4W

4W

Plastick housing

Certified

ACDC

RAC03-K

3W

3W

Plastick housing

Certified

ACDC

RAC02-GA

2W

2W

Plastick housing

Certified

ACDC

RAC01-GA

1W

1W

Plastick housing

Certified