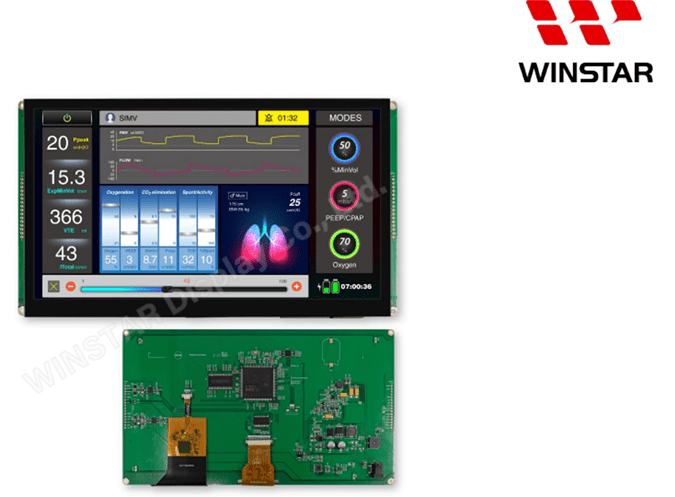 WL0F00101000JGDAASA00 is a 10.1-inch TFT Smart Display_RS485 series from Winstar, defined as a slave device controlled by a master device via RS485 command to render display content on the display screen and return touch event data with Modbus protocol data. WL0F00101000JGDAASA00 features Winstar wide temperature IPS TFT WF101JTYAHLNB0 and a 4-layers FR4 PCBA built-in firmware. This 10.1″ RS485 series TFT is an easy-to-use product that allows you to develop projects rapidly and cost-effectively. Winstar RS485 Smart Display support single-master (HOST) platforms, such as a computer (with USB2RS485 Dongle), MCU, and Raspberry Pi. Below are the features of this 10.1-inch RS485 Smart Display:
+12V power supply input, the power consumption is around 6W
Self-testing after booting function
RS485 communication interface
Built-in flash memory, store the font and Object Dictionary Data
IPS TFT WF101JTYAHLNB0 with PCAP touch panel
Smart Display scenario is slave device display and action from Master Device instruction
Embedded buzzer controlled by Master Device
Demo set HOST can be used on multiple platforms, such as Computer (with USB2RS485 Dongle), MCU, Single Board Computer with Linux OS, Raspberry Pi
Design the UI without writing a line of code by Winstar GUI builder.
Winstar developed a Windows app for Smart Display GUI design. Winstar GUIbuilder software allows customers to simulate their GUI design in advance using the drag-and-drop Widget preview function; customers can also create their ideal GUI. Winstar GUI builder software supports Windows systems only; it can fulfill What You See Is What You Get (WYSIWYG). The upgraded version of built-in software is a 3-in-1 APP; a combination of three application templates for optional, including industrial, vehicle, and medical applications. Please press the preferred application and hold power on for 3 seconds the first time. Customers can change to another template by using GUIbuilder to change the application.

Mechanical Data:
| | | |
| --- | --- | --- |
| Item | Standard Value | Unit |
| LCD panel | 235(W) x 143(H) x 8.78(D) | mm |
| PCB | 248.8(W) x 143(H) x 1.6(D) | mm |
| Housing outline | NA | mm |
General information
Item

Standard Value

Unit

Operating voltage

12

Vdc

Communication Interface

RS485 differential ± 3.3

Vpp

MCU

STM32F746

N/A

Flash Memory

16

MB

SDRAM Frequency

166

MHz

LCD display size

10.1

inch

Dot Matrix

1024 x RGBx600(TFT)

dot

Module dimension

235(W) x 143(H) x 8.78(D)

mm

Active area

222.72 (H) x 125.28(V)

mm

Dot pitch

0.2175(W) x 0.2088(H)

mm

LCD type

LED, Normally White

View Direction

85/85/85/85

Aspect Ratio

16:9

With /Without TP

With PCAP

Surface

Glare
If you want more information or if you have any questions about this product, please contact Nijkerk Electronics!