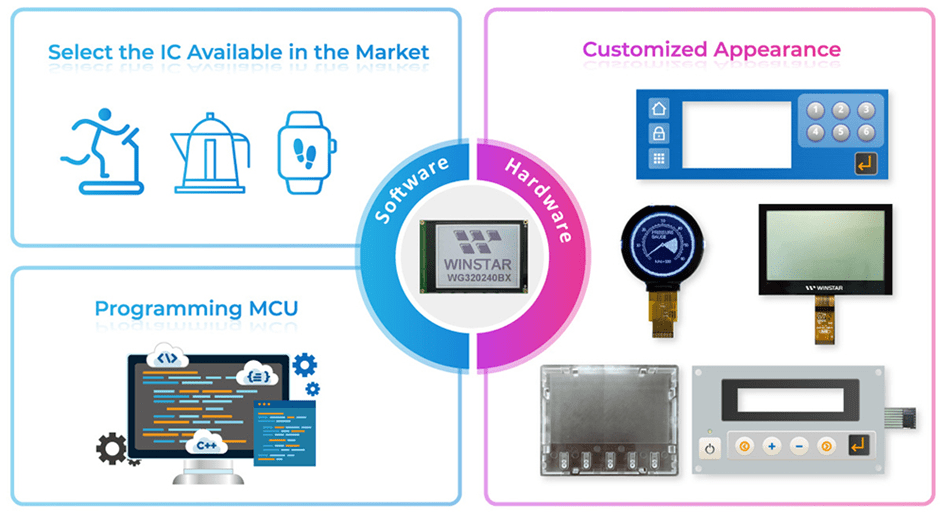 Winstar has many decades of experience in the design of customized display solutions. For many years we help our customers to design and perform semi and fully customized display solutions. Winstar Display is a professional display manufacturer, that's why we can provide clients the perfect solutions for their products since we own know-how of the display manufacturing process and our sales and engineering teams will be with our customers through the entire development process and will ensure the semi or fully customization a successful display tailored made to each individual application.
The custom design solutions are available in different options according to customer requirements. Winstar can offer various custom designs on display shape or size, silk screen printing, backlight configuration, pin and connector, cable, touch panel or custom cover grass, ZIF or customized printed circuit board, plastic cover/case or a fully custom solution for customers' product applications.
For software, Winstar has a total solution. Not only select specific IC for customer, but also we can support host device programming or system integrated solution.
As your best solution partner, we encourage customers to contact our sales department. We will gladly support you with our experience at every stage of the project and help you choose the best technologies and solutions.
We can provide custom solution for LCD, TFT, OLED and system integrated solution.
For more information, please contact Nijkerk Electronics.