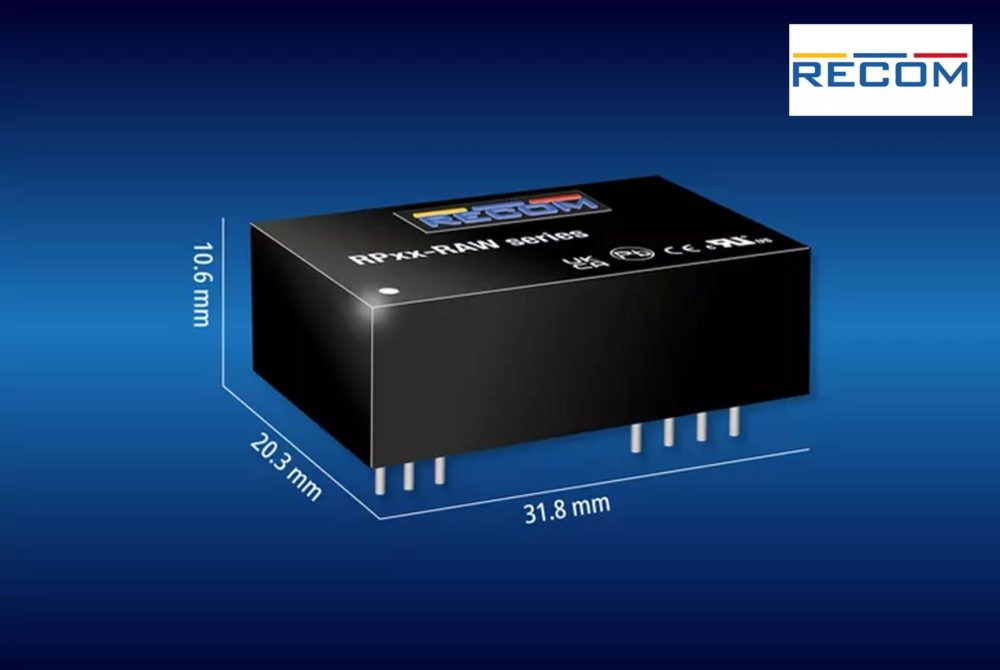 RECOM's
cost-effective RPxx-RAW series is perfect for isolated, auxiliary supplies in rail and wider voltage range applications, with its 36 – 160VDC input range, suitable for 72V, 96V, or 110V nominal voltages with dips and surges up to 200V (1 second).
Outputs available are single 3.3V, 5V, 12V, 15V, 24V, and dual +/-5V, +/-12V, and +/-15V. The RP03-RAW series is rated at 3W output, the RP06-RAW at 6W, and the RP10-RAW at 10W. All parts are in the same encapsulated, through-pin, DIP24 industry-standard format, 31.8mm x 20.3mm x 10.6mm tall.
Advanced circuit and thermal design techniques in the RPxx-RAW series have resulted in high-efficiency operation with low internal temperature rises, in turn enabling operation at full load to high ambient temperatures, convection cooled without derating: 90°C for the 3W part, 85°C for the 6W part, and 75°C for the 10W part. An operation up to 105°C is also possible with load derating and/or airflow. All parts are fully protected against over-temperature, input under-voltage, and output shorts and overload. A control pin is provided to disable outputs and put the parts into a low dissipation mode.
The RPxx-RAW series features a reinforced isolation rating tested at 3kVAC and holds certifications to rail standard EN50155 as well as IEC/EN/UL62368 and the Canadian equivalent, for Multimedia/IT applications. EMC standard EN55032 class A is met without external components while the addition of three small external capacitors allows class B levels to be met.
The series is also suitable for general applications in harsh environments with higher DC input supplies, such as IoT sensors, battery management systems, and electric forklift trucks.