Digitalization is transforming the way we secure and unlock homes and vehicles. Keyless entry systems are getting increasingly popular because they are simpler, safer, and more stylish than traditional mechanical locks.
With a new transparent in-glass display technology, a keypad lock can be integrated into the glass door and control the access to office buildings, conference rooms, home premises, shared vehicles, or private cars. This type of transparent in-glass keypad lock for keyless entry is not only functional but also conveys a premium image.
This article will cover the definition of a keyless entry system, benefits, various types of keyless entries, and a premium keyless entry solution powered by LUMINEQ transparent in-glass display.
What is a keyless entry system?
A smart keyless entry system controls access to a building or vehicle without using a traditional mechanical key. For vehicles, the term Keyless Entry System was first introduced by Ford in 1980, which referred to a keypad lock at or near the driver's door.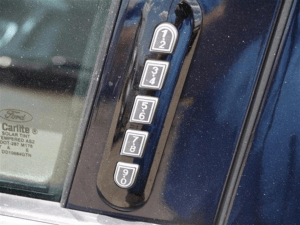 Benefits of keyless entry systems
Save time and cost
Managing and keeping track of the physical keys for office premises and rental properties is time and cost-consuming. With keyless entry systems, granting or revoking access is instant and straightforward. There is no need to get new keys, wait for the old keys to return, or keep a set of backup keys. For shared vehicles, keyless entry is much appreciated due to its convenience.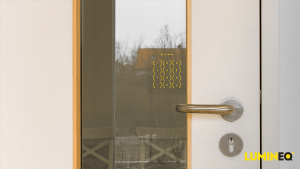 Security
Security is another concern, especially for those businesses with high employee turnover. Mechanical keys can be lost, stolen, or copied. A keyless entry system provides better access control, and reduces the risk of unwanted entries using a duplicate key. The passcode can be changed from time to time. You can also achieve advanced security by combining a personnel key card and keypad that requires person-specific passcode.
Modern design
The transition from mechanical locks to touch screen or keypad locks is a technology evolvement, and a visual upgrade. Many keyless entry locks provide a modern look and feel, which aligns with the design of office buildings.
Different types of keyless entry systems
There are a few types of commercial keyless entry systems. While key fob and key card systems are different from traditional keys, they are not considered truly keyless.
Keypad locks
One of the first keyless entry systems is a keypad lock that can be accessed by typing a passcode. Such systems are still available on certain Ford and Lincoln models.
Touchscreen locks
Touchscreen locks are like keypad locks, but they use a touch screen instead of a mechanical keypad for inputting the passcode. It can look more stylish.
Biometrics locks
The most common biometrics locks use fingerprints to control access. This gives you the ability to grant access to as many visitors as you want or restrict it to just your family members. Fingerprint access can be more convenient than typing a passcode, but some may encounter difficulty getting the lock to read their fingerprint consistently.
Z-wave enabled locks
Locks with Z-wave are usually connected to a smart hub and allow you to remotely lock or unlock from anywhere right from your smartphone. Once you integrate the lock to your Z-Wave enabled home automation system, you may use voice commands to open the door, or remotely unlock it for your visitors via the web.
Felx-lock and Auto-lock
The flex-lock feature allows you to set the lock to automatically relock after a few seconds of inactivity. Auto-lock locks after a specific time after being opened.
Transparent touch keypad for premium keyless entry experience
A traditional keypad lock is installed on top of the door surface as an extra object. But LUMINEQ powered transparent touch keypad can be seamlessly integrated into the glass door or window.
How does it work? Basically, we provide a transparent touch display with a keypad function to the glass laminator, who laminates the transparent thin film display between two glass layers.
Vehicle windows and windshield are usually gone through this lamination process. Laminated glass is used because it is more robust and more secure, and it also acts as a solid barrier to outside noise.
A laminated glass door with a transparent touch keypad inside is a great option for cars, vans, trucks, office buildings, conference rooms, rental properties, and homes. You can make it even more secure by setting the transparent keypad display invisible until someone touches a specific area of the glass door to activate it.
LUMINEQ transparent keypad demo available
ELT52S-07NC-KEYPAD is a transparent touch display ready for lamination into your larger piece of glass. This solution comes with the display glass, FPC (flex cable) and driving electronics. With this display, you can bring a fully transparent keypad solution for applications using authorized coded entry in vehicles or premises.
12 buttons and 4 x 7-digit segments
Interface of the display is CAN
Catch a glimpse of the demo in the video. Instead of showing a number when a button is pressed, it is also possible to show "-" instead, depending on your need.
For more information or a datasheet please contact Nijkerk Electronics.