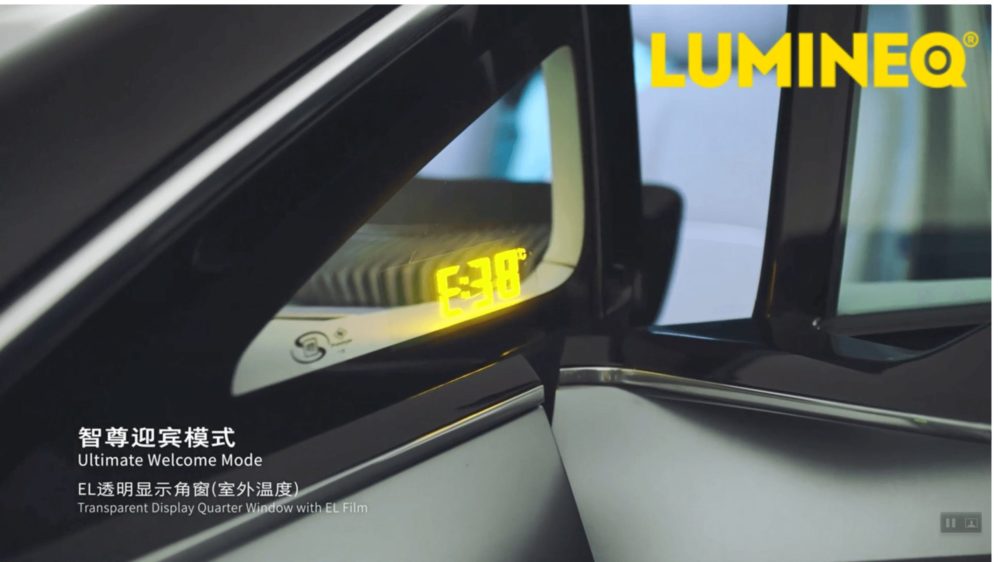 Pan Asia Technical Automotive Center (PATAC), the renowned joint venture between General Motors and SAIC Motor, has revealed its groundbreaking Advanced Technology Engineering Vehicle, showcasing a revolutionary feature: in-glass transparent display, developed by Lumineq. This innovative technology converts side windows into highly informative screens, providing passengers with essential vehicle data without obstructing their view of the outside world. With this breakthrough, PATAC envisions a future where transparent displays become an integral part of the automotive industry, revolutionizing the way we interact with vehicles.
LUMINEQ transparent display is laminated into the crystal-clear quarter glass of PATAC's vehicle, seamlessly blending the cutting-edge technology with the vehicle's interior design. The driver and passengers in the front seats can now conveniently access relevant information, such as in-vehicle temperature, outdoor temperature, oil level, and remaining mileage, while enjoying an unobstructed view of the surrounding scenery. The display becomes virtually invisible when not in use, preserving the car's clean and modern interior.
By leveraging Lumineq's advanced transparent display technology, vehicle manufacturers can transform traditional side windows into interactive information hubs and even touch panels. The world's fastest Maglev train for instance features LUMINEQ in-glass transparent displays for controlling the dimming of the cabin windows. This innovative integration enhances passenger convenience while maintaining the vehicle's elegant aesthetics.
Mr. Petri Schroderus, the President of Lumineq Oy, commented on the Advanced Technology Engineering Vehicle launch, stating, "We are proud to partner with PATAC to bring this revolutionary technology to the automotive industry. LUMINEQ transparent displays deliver essential information to passengers or drivers using idle surfaces without needing extra space. We believe this solution will reshape the driving experience and inspire future innovations in automotive design."
PATAC's collaboration with Lumineq underscores its commitment to innovation and the pursuit of groundbreaking technologies in the automotive sector. The Advanced Technology Engineering Vehicle, featuring transparent displays, is a testament to the potential of integrating transparent display technology into vehicles and exploring new possibilities in the world of connected and intelligent transportation.
If you want more information or if you have any questions, please contact Nijkerk Electronics!