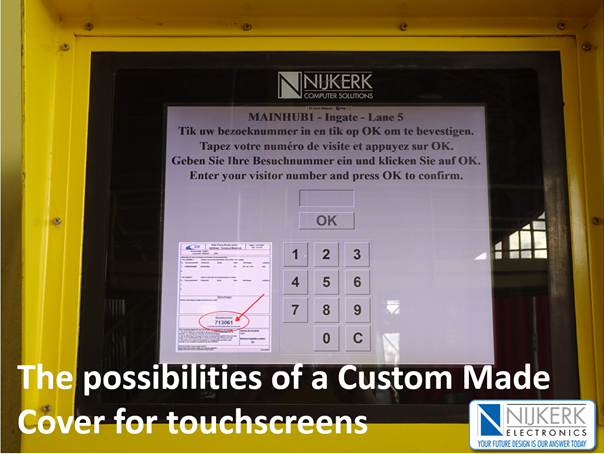 With the rise of mobile phones and tablets, the use of (projected capacitive) touchscreens has taken a firm hold in our lives. Touching a screen to accomplish a task is simple and intuitive. Even small children know how to operate a touchscreen effortlessly. Touchscreen are increasingly being used in both industrial and consumer applications. Because of the many possibilities, a lot of companies choose for a custom-made touchscreen solution. At Nijkerk Electronics we have a lot of experience in compiling the perfect touch solution (display + PCAP + cover lens). With this article we will give an overview of the possibilities and considerations regarding cover lenses.
Glass or PMMA to protect your display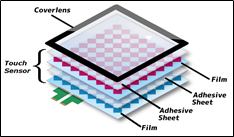 An important part of a projected capacitive touchscreen (also known as PCAP) is the front glass plate or cover lens. The cover lens determines the appearance of a device and protects the display and touch sensor as well. Glass has the perfect properties to serve as a cover (transparent, clear, longevity and weather proof) which makes it the most used material. An alternative is PMMA, especially when weight is important. Glass and PMMA have a lot of possibilities in thickness, finish and form.
A distinctive appearance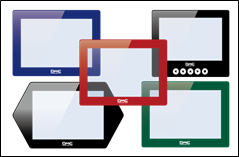 The cover lens is a very important part of the device, both in appearance and use. The user will use the device through the cover lens. There are many possibilities in order to have the cover lens suit your wishes with regards to the appearance of the device. We can create the exact size for your device. Also consider rounding corners or making cut outs for placing a sensor, camera or microphone, for example. It is also possible to adjust the colour of the glass or to place a logo or text on the glass. This enables you to create a cover lens that fits your device perfectly!
Cover glass thickness
In order to protect the display and touch sensor the thickness of the cover lens is important. A cover glass can be created in thicknesses from 0.55 mm to 10.0 mm. Depending on the use of the device the ideal thickness can be selected. Please be advised that the PCAP sensor has to be suited for the chosen thickness so the sensor can function properly.
Special characteristics of glass
Not only thickness is important, it can also be necessary to apply a special surface treatment to the cover lens. This treatment makes sure the touchscreen meets the requirements of use even better. For outside use, for example, the cover lens can be treated with an anti-glare or anti-reflection option; for medical use the cover lens can be treated with an anti-bacterium treatment.
Frequently used surface treatments for glass are: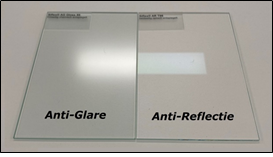 Anti-glare
Anti-reflection
Anti-fingerprint
Anti-bacterium
Mounting a touchscreen on a display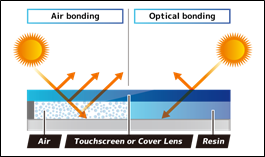 Once the display and the touchscreen have been chosen, assembly is the only thing that is left to do. Attachment of a touchscreen on the display is possible through air bonding (double-sided tape attached to the sides) or through optical bonding (attachment across the entire surface). Air bonding is less expensive, but can lead to unwanted effects like decrease of the brightness of the display and reflection of sunlight. Optical bonding, on the other hand, gives the best optical quality and is also a more solid solution than air bonding.
Polymethyl methacrylate (PMMA) as alternative to glass
As an alternative to glass used as cover lens, you can choose PMMA. PMMA weighs less, is easier to produce in different shapes and easy to glue. There are some disadvantages though. It is more sensitive to damage (less hard than glass), lets through ultraviolet radiation, is less heat and impact resistant and splinters at high impact. Especially when weight of the device is important, PMMA is often used as material.
Nijkerk Electronics for the perfect touch solution
Nijkerk Electronics has a lot of experience in creating the perfect touch solution. We know the (im)possibilities and are therefore able to give good advice quickly. Our company also represents many top suppliers in this market. This makes it possible to give advice directly from the suppliers and enables you to choose from a wide spectrum of options. If you would like to know more, please contact Nijkerk Electronics.