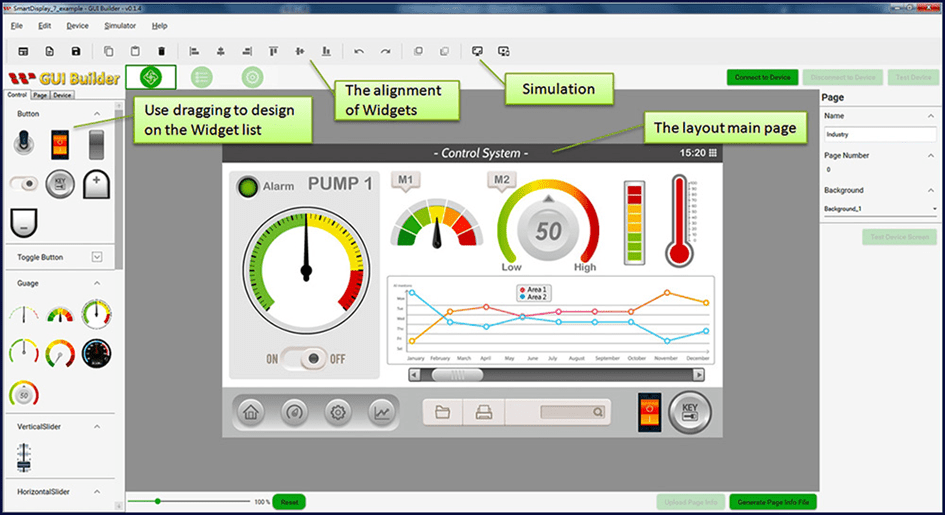 Winstar developed a Windows IDE (Integrated Development Environment) for Smart Display GUI design. There are many important key advantages for Winstar GUI Builder software as below:
► Drag-and-drop Widget Preview Function:
Winstar GUI Builder software is designed for customers to simulate their GUI designs in advance by using the drag-and-drop Widget preview function; furthermore, customers can create their ideal GUI designs by themselves. This GUI builder software is supporting Windows system only; it can fulfill What You See Is What You Get (WYSIWYG). It will lower your development costs and speed your time-to-market expectations.
► Simulator Function:
Customers can preview the display effects and functions through the simulator function of Winstar GUI Builder before purchasing the hardware (Winstar Smart Display module). You can try before you buy, just contact us to download our GUI Builder Software (App).
In the development stage, customers can simulate the display images on the PC side, without downloading to the hardware device to check the display effect; it can save a lot of development time.
► Change or create GUI designs at user side:
Customers can change GUI design or data by themselves by using our GUI Builder; do not need to create Graphic objects through Winstar design team. We still can provide custom UI objects support if customers need, our engineers are here to help.
► Supporting Size:
Currently, Winstar GUI Builder software can support 5″, 7″ and 3.9″ Smart Display. You can try Winstar GUI Builder before you buy our Smart Display modules; you are more welcome to buy our display modules to explore the fantastic performance of Winstar Smart Display.
Demo scenario for 3.9″ Smart Display:

WL0F00039000QGAAASB00 (Industrial Application)
WL0F00039000QGAAASC00 (Vehicle Application)
WL0F00039000QGAAASD00 (Medical Application)

Demo scenario for 5″ Smart Display:

WL0F00050000FGAAASB00 (Industrial Application)
WL0F00050000FGAAASC00 (Vehicle Application)
WL0F00050000FGAAASD00 (Medical Application)

Demo scenario for 7″ Smart Display:

WL0F0007000A8GAAASB00 (Industrial Application)
WL0F0007000A8GAAASC00 (Vehicle Application)
WL0F0007000A8GAAASD00 (Medical Application)
Here are some example pages for Smart Display GUI Builder Software as reference:
Example: Start Page of Winstar Smart Display GUI Builder
Read more on the Winstar Smart Display GUI Builder page
Or contact Nijkerk Electronics for more information.