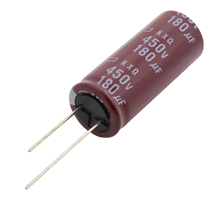 The Nippon Chemi-Con KXQ series is focused on smoothing the PFC output of OBC (on board charger), which is one of the key components of electric vehicles such as EVs and PHEVs that are expanding rapidly. The KXQ series makes it possible to reduce the mounting area by increasing the capacitance per unit and endurance at 105 ºC for 10,000 hours or more. The KXQ series is AEC-Q200 compliant.
Features
| | |
| --- | --- |
| Series | KXQ |
| Endurance | 105℃ 10,000/12,000hrs. (DC with Ripple current) |
| Rated Voltage | 400 to 450Vdc |
| Capacitance | 47 to 180µF |
| Size | ⌀16×20L to ⌀18×45L |
| AEC-Q200 | Compliant |
Recommended application
In-vehicle OBC (on board charger)
PFC (power factor correction) circuit
High reliability applications
Positioning of the series
The KXQ series has improved the robustness required for in-vehicle use, while achieving a smaller size and higher capacitance than the conventional KXJ series. It contributes to the significant miniaturization of equipment in applications that require the use with multiple number of capacitors.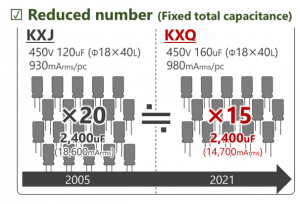 By using the KXQ series, which has achieved high reliability and high capacitance, mounting area is 20% smaller than the conventional KXJ (Comparative example item: 450v100µF)
KMQ series
(105℃ standard)

KXJ series
(105℃ Downsizing, Long life)

KXQ series
(105℃ Long life, High capacitance)

Ex. 450V φ18×35.5L
・Capacitance : 68µF
・Endurance : 2,000 hrs. at 105℃
・Ripple current : 185mArms

Ex. 450V 18×35.5L
・Capacitance : 100uF
・Endurance : 12,000 hrs. at 105℃
・Ripple current : 835mArms

Ex. 450V 16×35.5L
・Capacitance : 100uF
・Endurance :12,000 hrs. at105℃
・Ripple current : 750mArms
Technology elements and benefits
Improved mechanical strength of aluminum foil
High-density element winding is realized by using high capacitance anode aluminum foil with improved mechanical strength. [Patented]

Thinning and high density of separate paper
The amount of aluminum foil entangled has been improved by use thin separate paper.

Improved lead wire connection stability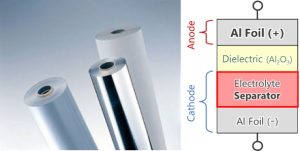 For more information, contact Nijkerk Electronics.