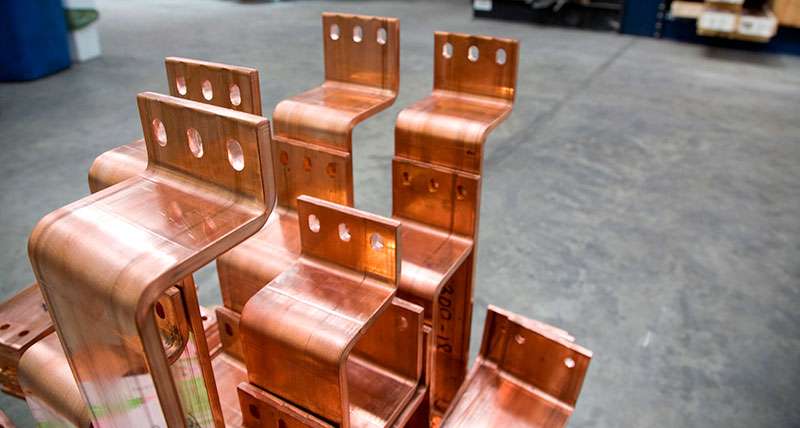 HV Wooding is a well-established, industry-leading UK manufacturer with over 50 years of experience in the production of high-specification components, including busbars. Their comprehensive manufacturing capabilities range from prototype development to volume production, utilizing various techniques such including Wire Erosion, Laser Cutting for copper and aluminium, Presswork & Tooling, Assembly and Electroplating.
Nijkerk Electronics has seen a growing demand of busbars over the last years and is therefore pleased to become distributor of HV Wooding. Alain Huysmans (sales director Nijkerk Electronics): "The busbars are a perfect addition to our portfolio. We have seen an enormous increase in demand for power electronics components in green power solutions such as battery storage systems or charging systems. We currently supply components like contactors, switches and current sensors. We have noticed a high demand for customised busbars. This is where HV Wooding can provide!"

At HV Wooding, they specialize in the manufacture of copper and aluminium busbars for use in switchgear components, control panels, panel boards, fuse gear, and transformers. As a leading UK manufacturer, their diverse range of manufacturing techniques allows them to produce a wide variety of custom-designed busbars to meet specific requirements. This includes large-scale projects involving thousands of variants as well as small-scale, single part orders with minimal or no tooling costs. Their technical team, equipped with state-of-the-art equipment and a customer-focused approach, delivers high-specification products to various industries. Quality is of paramount importance to them, and as a leading British manufacturer, HV Wooding is fully certified to ISO9001:2015, OHSAS 18001 and 14001:2015. They are also members of the SMMT, the Confederation of British Metal Forming, British Safety Council, and Fit for Nuclear."
If you want more information or if you have any questions about this new collaboration, please contact Nijkerk Electronics!