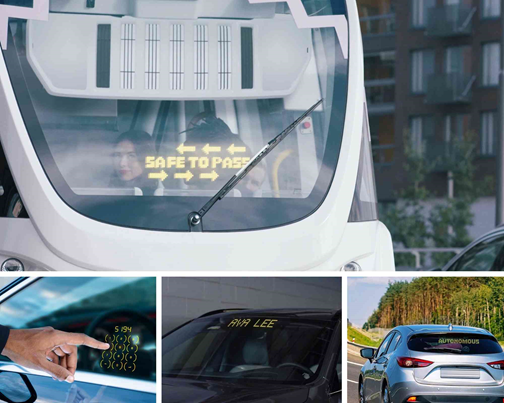 This article is a summary of a webinar, hosted by LUMINEQ, about turning vehicle windows into interactive displays. The following take aways from the webinar were:
CASE vehicles with transparent and in-glass displays
LUMINEQ transparent display technology
Lamination process
Transparent display options and demos
CASE vehicles with transparent and in-glass displays
LUMINEQ in-glass laminated displays empower vehicle manufacturers to utilize all the windows by turning those idle surfaces into information displays and touch screens. This innovation helps OEMs to make safer vehicles with new features and to be more prepared for the era of CASE – connected, autonomous, shared, electric vehicles.
Connected vehicles
A connected car has its own connection to the internet, usually via a wireless local area network (WLAN) that allows the car to share internet access and data with other devices inside and outside the car. Connected cars as part of the "internet of things" offer a wide range of benefits.
A connected car adds comforts due to its access to internet services like maps and entertainment, and its capability of remote climate control. More importantly it offers great deal of safety features when properly utilized. It can provide information like weather, traffic, road conditions, accidents on route, speed limit information.
In-glass displays enable vehicles to communicate this information with other road users via the windshields or rear windows.
Autonomous vehicles
Signaling intent is important to ensure safety in the era of autonomous vehicles. Pedestrians need to know whether they have been noticed and if it is safe to cross the road. The autonomous vehicle user doesn't drive, so it is crucial to get notified if something unexpected happened, which requires him to take actions. A warning message flashing on the windshield in the line of sight of the driver would work in this case.
Shared vehicles
In-glass displays can be utilized to show relevant information to the shared car users in the most intuitive and convenient way, right on the side window or the windshield. Let it be the name initials on the windshield, or cleanness status on the side window, or a NFC icon on the quarter glass, LUMINEQ provides a simple yet advanced solution by converting idle surfaces into information displays. Furthermore, the touch capability can be added. A useful application is a transparent keypad integrated in the window to lock and unlock the shared vehicle.
Electric vehicles
Most EV cars provide the charging information on the dashboard or via a mobile app. In-glass displays enable them to provide a more intuitive and simpler alternative — to display the information right on the car window. Drivers don't have to turn on the dashboard or install an app to check the battery status while charging. This is convenient especially for people using a rental or shared car.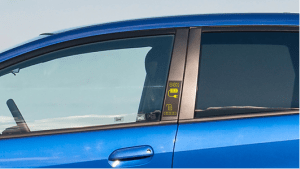 LUMINEQ transparent display technology
LUMINEQ provide the world's most transparent displays with following features and benefits.
Over 80 % transmission, and over 70% when laminated in glass windshield
Space-saving solution: compact form factor electronics
360° wide viewing angles
Instant ON and no motion blur in the wide operating temperature range from -60 °C to +105 °C (-76 F to 221 F)
Excellent brightness – up to 1500 nits.
Inorganic solid-state design, no liquids – freeze, vibration and shock proof
Displays can be used as stand alone or laminated into glass like windshield or side window or into polycarbonate
Excellent option for vertical surfaces
LUMINEQ displays do not use filters or polarizers, so can be seen on any angle and with any sunglasses
Display characteristics are not impacted by UV light
Displays can be integrated with capacitive touch buttons without any additional layers
Dedicated driving electronics and several interface options available
Lamination process
LUMINEQ transparent displays can be laminated in or on glass or polycarbonate sheets.
Laminated in
The lamination process is to bond two or more layers of ordinary annealed (tempered) glass with a plastic interlayer. The interlayer is typically polyvinyl butyral (PVB), ethylene-vinyl acetate (EVA), or thermoplastic polyurethane (TPU).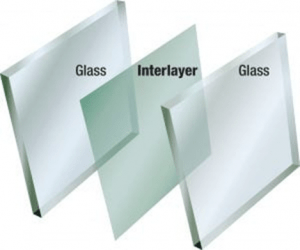 The plastic interlayer is sandwiched by the glass and heated to form the initial melting and eliminate air pockets and bubbles.
Then these constructions are heated under pressure in an autoclave or oven to achieve the final bonded product (fully crosslinked in the case of the thermoset EVA).
LUMINEQ display is 0.7mm thick, which can be perfectly embedded into a typical PVB layer of 0.76mm thickness. The image below shows the structure of a transparent display embedded in the laminated glass stack.
Our transparent display is available as a thin film deposited on top of a 0.7 mm glass substrate. This display layer will be placed inside the PVB layer of 0.76 mm thickness where a hole is cut for the display. LUMINEQ recommends using two layers of interlayer on either side of the display so that there is no glass on glass in the stack, along with a cut piece of interlayer that our display fits into. The interlayers are then sandwiched by two or more layers of glass.
Laminated on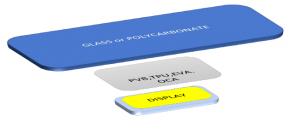 It's also possible to laminate our display on the glass or polycarbonate sheet. The lamination structure is illustrated by the image below. Display can be equipped with protective glass. You can add additional function layers like dimming layers in the smart window case.
Demos
LUMINEQ provides different display demos that consist of compact electronics, glass, and FPC.

When it comes to mass production, customers usually require custom displays tailoring to their specific design needs. LUMINEQ offer customization services. Anything can be customized, from the displayed content, shape of the display, connection area, electronics, interface, and flexible printed cable.
Supported interfaces include but are not limited to the following.
If you want more information or if you have any questions, please contact Nijkerk Electronics!