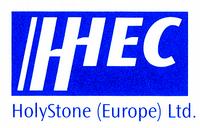 SCC X2 and X1/Y2 Series Multilayer Ceramic Capacitors
Holy Stone Enterprise has one of the broadest industry offerings of safety certified ceramic capacitors. The SCC series include X2 and X1/Y2 classes rated at 250 VRMS. These products are compliant with IEC60384-14, UL60384-14, and UL60950-1 standards. A 305 VRMS 2220 size X7R X2 class version is also available and tested under TUV test report number 28208004 (May 27, 2010). These products are available in Class I NPO (COG) and Class II X7R dielectrics.
Holy Stone Enterprise's safety capacitors are typically used in line-to-line (X) circuit applications in which a failure would not result in electrical shock, and line-to-ground (Y) circuit applications where failure could cause or lead to electrical shock. Safety Recognized ceramic capacitors can also be used for isolation between TNV (telecommunication network voltage) and SELV (safety extra low voltage) in modems.
Holy Stone Enterprise also offers a line of X1/Y2 safety certified capacitors suitable for automotive applications. These products are specifically designed for charging systems used in electric and chargeable hybrid automobiles.
Features
Suitable for reflow soldering
Safety standard approval by IEC60384-14, UL 60950-1, and UL60384-14
RoHS compliant and Lead (Pb)-free
Certified to: TUV R50005234, R50103496 & UL E229738 TUV R50162550 & UL E300818 & UL E229738 for Lead (Pb) free
Available with Superterm® flexible termination
Available with proprietary arc prevention coating
Applications
Telecommunications equipment

Telephones, modems, and facsimiles

Electronic equipment and appliances
Electric and hybrid automobiles in the charging circuitry
Network infrastructure
Power management
For more information, please contact Nijkerk Electronics.