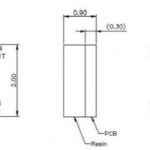 14 June 2019

Recently, Harvatek has introduced the 2020 RGB + IC, which is part of the B33G3 series. This new technology makes it possible to light the RGB LEDS individually. Especially with commercial displays, interior lighting or LED Matrix boards this new technology offers interesting possibilities.
Colour and colour intensity to be determined individually
Harvatek has developed this RGB LED with IC controller in order to be able to control every LED in a series of RGB LEDs individually. This makes it possible to regulate the colour and intensity of the colour in every RGB LED. The control is done with a serial 24-bit signal and its own protocol. This offers interesting possibilities for markets where LEDs need to be able to light up individually.
Very small RGB LEDs with IC
The 2020 RGB LED is very small (2.0 mm by 2.0 mm) and has been equipped with a built-in IC controller. Not only can the LED's be addressed individually, but the LED's can be fed with the correct current values as well. Only one 5 Vin in the design is therefore sufficient. It's also not necessary anymore to use an external LED driver.
Interested?
Contact Nijkerk Electronics for more information or download the data sheet here.
Technical characteristics
2.0(L) x 2.0(W) x 0.9(H) mm
RGB Single Point of Control
Constant current output @12mA
8 Bit (256 Level) Colour Set
IC Input Voltage 3.5V – 5.5V
B33G3 Series – 2020 RGB + IC (4PIN)
Wavelength λ (nm)

Luminous Intensity (mcd)

Series

Emitting Color

Typical

Min.

Max.

IF (mA)

Viewing Angle

B

470

45

150

B33G3

G

525

100

300

12

140°

R

624

100

350
Package Outline Dimensions