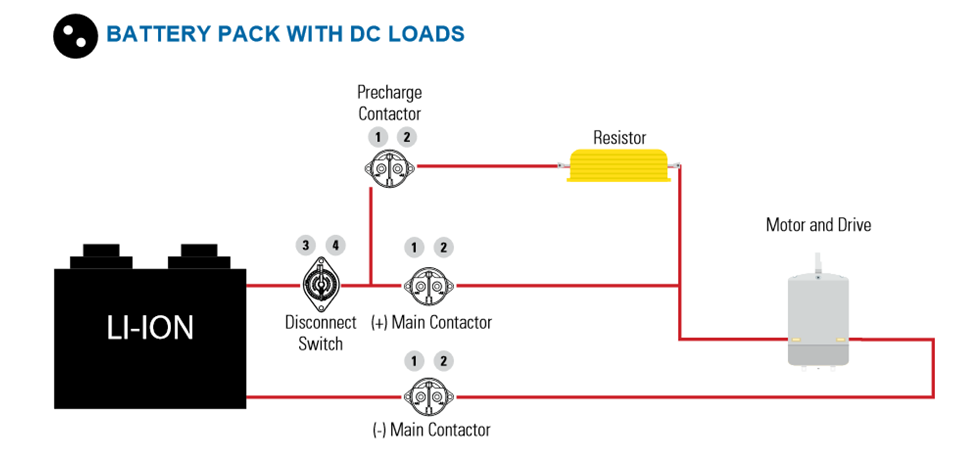 High performance contactors from GIGAVAC are ideal for protecting and isolating high power DC circuits. GIGAVAC is an innovator in contactors with its robust hermetic sealing technology and a partner of choice with its strong engineering support and commitment to world class operations. In particular, the new GV210 Series is ideal for small, high power applications, since these hermetically sealed, compact contactors are filled with an inert gas to increase switching performance and voltage isolation while minimizing contact resistance, corrosion, size, and weight.
The GV210 is suitable as a main contactor on both the positive and negative conductors for the many packs in the 12VDC to 900VDC range at continuous operating currents up to 150A. Additionally, the P series of contactors is suitable for higher voltage applications up to 80 A at 1500 VDC and PCB mounted applications. This can be continuous power levels from 3kW to 100kW, including forklifts, AWP's, AGV's, golf carts, lawn mowers, ATV's, motorcycles, drones, home energy storage, solar PV and chargers. The GV210 and P Series are also suitable as a precharge contactor on these packs. GIGAVAC also offers non-load-break manual disconnect switches, typically used for disabling the system for service. This includes the BD and HBD series of disconnect switches.
To learn more, view the GV210 article or contact Nijkerk Electronics.