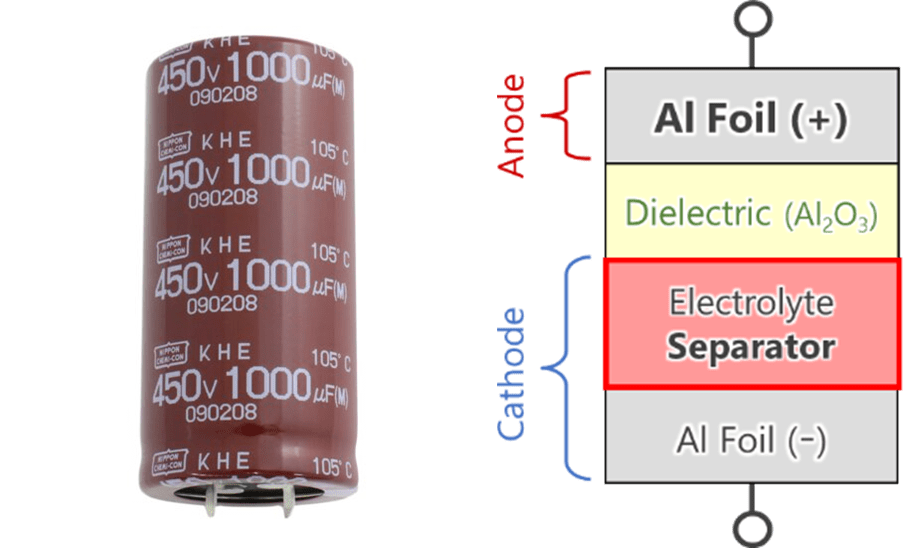 24 August 2021
Nippon Chemi-Con has upgraded her snap-in type aluminum electrolytic capacitor KHE Series and achieves world's highest capacitance*1. With this capacitor, Nippon Chemi-con is responding to the demand for ever-increasing output power by, for example, 5G high speed communication.
The new Nippon Chemi-Con KHE Series has an endurance 105℃ 2,000 hour realized 450V 1,000uF with one pcs using with D30X60L size instead of D30X45L size X 2pcs capacitor of KMW Series.
*1: at Endurance 105℃2,000hrs (July-2021, our research)
Series
| | |
| --- | --- |
| | KHE |
| Endurance | 105℃ 2000hrs (With Ripple) |
| Voltage | 400 〜 450Vdc |
| Capacitance | 200 〜 1,300µF |
| Size | ⌀25.4×25L 〜 ⌀35×60L |
*Due to this upgrade release, conventional line up of KHE Series has been removed from catalog.
Please refer the latest catalog information when considering KHE Series.
Recommended Applications
General switching power supply
Power supply for server / Infrastructure
Inverter power supply
Position of the Series
KHE Series which realized world's highest level of capacitance, contribute to reduce number of capacitors and downsizing of equipment.
Comparison by Series : 450Vdc, φ35×50L
KMR Series

KMW Series

KHE Series

Capacitance

680µF

820µF

1,040µF

Endurance
(105℃ With Ripple)

2,000hrs

2,000hrs

2,000hrs

Rated Ripple Current
(120Hz)

2,360mAr.m.s.

2,420mAr.m.s.

2,580mAr.m.s.
Key Technology and Benefits
Adopt high capacitance aluminum foil.
Adopt thin and high density separator paper.
Improved stability of electrolyte.
For more information, please contact Nijkerk Electronics.