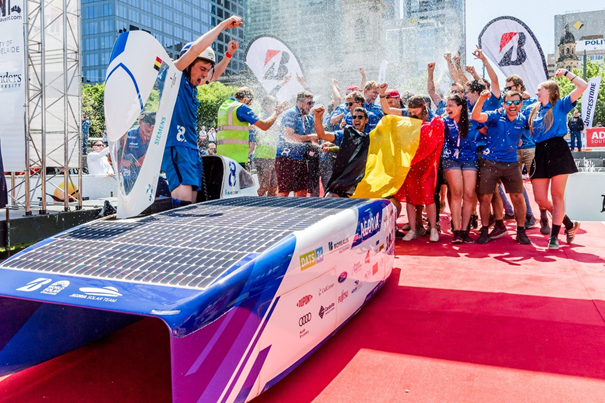 After 16 years of trying, Belgian Agoria Solar Team (KU Leuven) have finally won their first World Solar Challenge from Darwin to Adelaide.
Agoria spokesman Willem Jan Claes said the 3000-kilometre trek across Australia was much harder than he had ever imagined. "It's crazy. I was prepared for a big challenge but it was way beyond that," he said. "It's the eighth time that our team has competed and the first time we managed to win. So this is what we've worked to for 16 years."
Just minutes after Agoria crossed the line the Japanese team from Tokai University finished in second spot in Tokai Challenger while third place went to the University of Michigan in Electrum.
Agoria covered the 3020 kilometres from Darwin in 34 hours, 52 minutes and 42 seconds for an average speed of 86.6 km/h.
Nijkerk Electronics was an important supplier for the electric components inside the battery pack (Gigavac GX21SAB and Isabellenhütte IVT-S). In June we wrote an article about the team and the components 'The most lightweight and durable components for the Agoria Solar Team Car.'
For more information about the team:
Agoria Solar Team: https://www.solarteam.be/
World Solar Challenge: https://www.worldsolarchallenge.org/