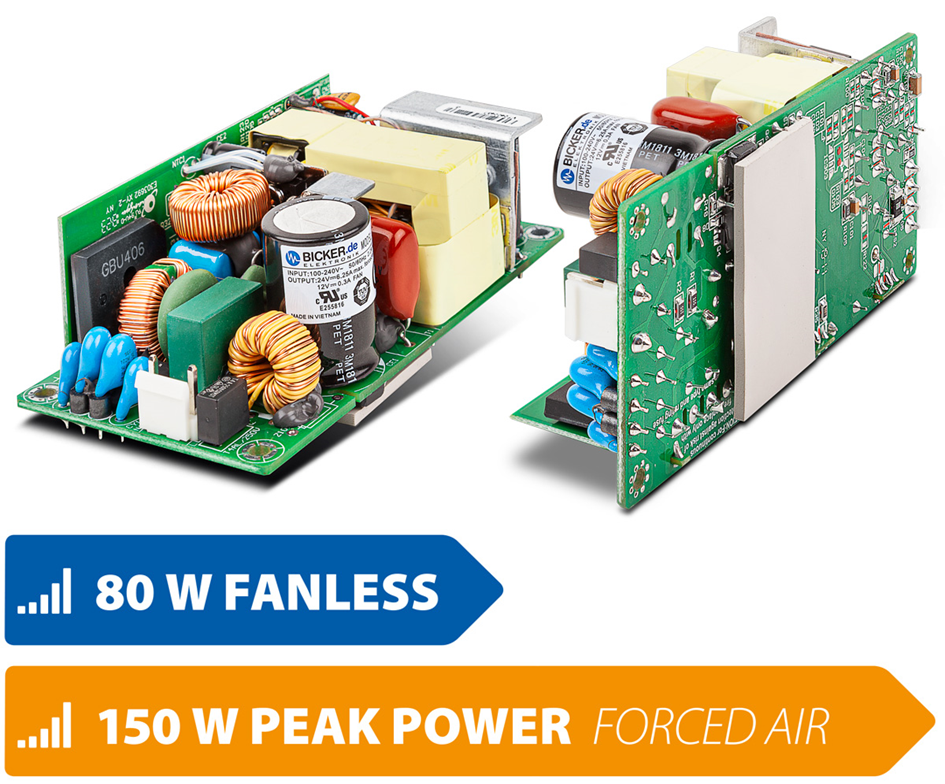 With the models BEO-0812 (+12V) and BEO-0824 (+24V) Bicker Elektronik is extending their AC/DC switching power supply series BEO with performance class 80 W in the space-saving 2×4″ design, fanless for contact cooling. With forced air cooling up to 150 W continuous power is available. The energy-efficient BEO-0800 series is also characterized by its high efficiency of up to 91% and low standby consumption <0.48W.
The rugged and reliable industrial power supplies have a wide-range input of 90 to 264 VAC with active power factor correction (PFC) for worldwide use and are certified to IEC/EN/UL62368-1. Due to the very good electromagnetic compatibility (EMC), the BEO-0800 series meets the stricter class B of EN55032.
The high quality of the components used and the excellent circuit design guarantee a long service life and safe 24/7 continuous operation in the extended temperature range of -20…+70°C.
Contact cooling for fanless systems
For optimum thermal connection to chassis of the power components on PCB bottom side, the BEO-0800 series already includes a suitable thermal pad. Due to the very good thermal management, the heating of the switched-mode power supplies are reduced to a minimum, making maintenance-free systems without rotating fans possible. The already included insulation foil has a precisely fitting opening for the thermal pad.
Pre-assembled thermal pad included
Due to ideal heat conduction properties and the flexible pad surface, the pre-assembled thermally conductive gap filler (thermal pad) creates an optimal connection between the power components and the connected housing chassis, so that no active cooling is necessary.
High energy efficiency and power density
The BEO-0800 series combines high energy efficiency across the full performance range with the compactness of a rugged 2×4″ industrial power supply, making the space-saving AC/DC switching power supplies suitable for a wide variety of closed and fanless embedded systems and applications, which require high reliability for many years.
BEO-0800 Series
All features at a glance
AC/DC switching power supplies for industry
Available with 12V and 24V output
Very compact 2×4″ design
80 Watt continuous fanless power (150 Watt with forced air cooling)
Pre-assembled thermal pad for contact cooling
High efficiency up to 91%
Low standby consumption <0.48W
Operating temperature range -20…+70°C
Additional +12V fan output (0.3A max.)
Operating altitude up to 5000 m
Certified according to IEC/EN/UL62368-1
High reliability (MTBF)
Suitable for 24/7 continuous operation
3 years warranty