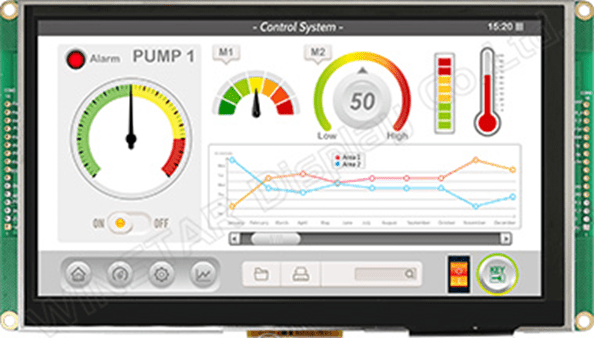 The Winstar WL0F0007000A8GAAASA00 is a 7″ Smart Display_CAN series TFT which is defined as a slave device, that is controlled by master device via CAN bus command to render display content on the display screen and return touch event data with protocol objects. This Smart Display is integrated with a standard TFT module WF70A8TYAHLNG0 and 4-layers PCBA with built-in firmware. This 7″ Smart Display _CAN series TFT is an easy-to-use product which allows customers to develop projects rapidly in cost-effective way. This 7″ Smart Display can use computer with USB2CAN dongle or Raspberry Pi interface (PiCAN2) as HOST platform. Below are the features of 7″ smart display:
DC 12V working voltage
Power-On Self-Test & Splash screen.
CAN bus Interface.
Supports CANopen protocol, default baud rate at 250KB.
Built in flash memory, storing the font and Object Dictionary Data.
Supports projected capacitive touch screen (PCAP).
Built-in Buzzer controlled by Master Device.
Winstar Smart Display CAN Series offers an out-of-the-box CANopen development experience that will lower your development costs and speed your time-to-market expectations.
The CanTFT comes with standard UI objects to get customers project off the ground quickly. If customers need custom UI objects support, our engineers are here to help. Send over your contents in PNG/JPG format, we will customize a new set of UI objects to you.
We provide below three kinds of demo scenarios for optional. For more details, Contact Nijkerk Electronics.
WL0F0007000A8GAAASB00 (Industrial Application)
WL0F0007000A8GAAASC00 (Vehicle Application)
WL0F0007000A8GAAASD00 (Medical Application)
Below is the mechanical data and LCD information for reference:
Mechanical Data
| | | |
| --- | --- | --- |
| Item | Standard Value | Unit |
| LCD panel | 169.9(W) x 103.4(H) x 5.6(D) | mm |
| PCB | 184.1(W) x 102.6(H) x 1.6(D) | mm |
| Housing outline | 184.1(W) x 102.6(H) x 21.85(D) | mm |
LCD Information
Item

Standard Value

Unit

Operating voltage

12

Vdc

Communication Interface

CAN bus differential ± 3.3

Vpp

Size

7

inch

Dot Matrix

1024 x RGBx600(TFT)

dots

Module dimension

169.9(W) x 103.4(H) x 5.6(D)

mm

Active area

154.2144 x 85.92

mm

Dot pitch

0.1506 x 0.1432

mm

Backlight Type

LED, Normally White

Viewing Angle

85/85/85/85

Aspect Ratio

16:9

Touch Panel

PCAP

Surface

Anti-Glare
For more information, please contact Nijkerk Electronics.