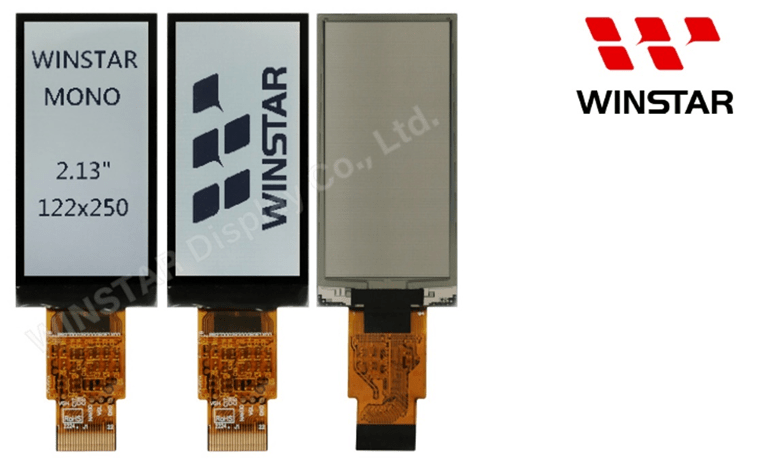 The WF22GN5AB2DNN0 from Winstar is a 2.13-inch Portrait Mode Mono TFT display with an LPRD (Low Power Reflective LCD) resolution of 122×250 pixels, built-in ST7306 driver IC that supports 8-bit MCU, 4-line SPI/3-line SPI interfaces. This WF22G Mono TFT series adopted a Reflective type LCD, which has the following advantages:
Sunlight readable; Reflective LCD is suitable for outdoor applications
Vivid Color, visible on cloudy days or early morning, reflective displays improve visual quality
UV Resistance (Glass LCD base)
Extra Low power consumption; slim and light
Mono TFT; looks like electronic paper
Fast refresh rate, suitable for dynamic information display
Eyes care; remove backlight (blue light) to reduce eye hazards
WF22GN5AB2DNN0 adopted mono TFT with LPRD technology featured of view angle of Left:65 / Right:65 / Up:65 / Down:65 degree (typical), the supply voltage for logic (VDDA) is 2.55 to 3.6V, with the typical value of 3.3V, aspect ratio 18:9, anti-glare glass. This Mono TFT module can be operating at temperatures from -20℃ to +70℃; its storage temperatures range from -30℃ to +80℃.
The LPRD (Low Power Reflective LCD) can be used in smart retail, such as shelf labels, sports health, such as bicycle recorders, fishing rod reels, handheld devices, transportation, such as EV charging, wearable or portable devices, etc.
WF22GN5AB2DNN0

Dimension

Unit

Size

2.13

inch

Dot Matrix

122 x 250

dots

Module dimension

27.07(W) x 56.2 (H) x 1.09 (D)

mm

Active area

23.668 x 48.50

mm

Pixel Pitch

0.194 x 0.194

mm

LCD type

Mono TFT (Reflective type)

Viewing Angle

65/65/65/65

Aspect Ratio

18:9

Driver IC

ST7306 or Equivalent

Interface

8bit MCU/4-SPI/3-SPI

Touch Panel

Without Touch Panel

Surface

Anti-Glare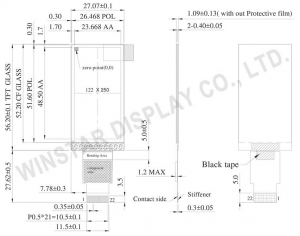 If you want more information or if you have any questions, please contact Nijkerk Electronics!