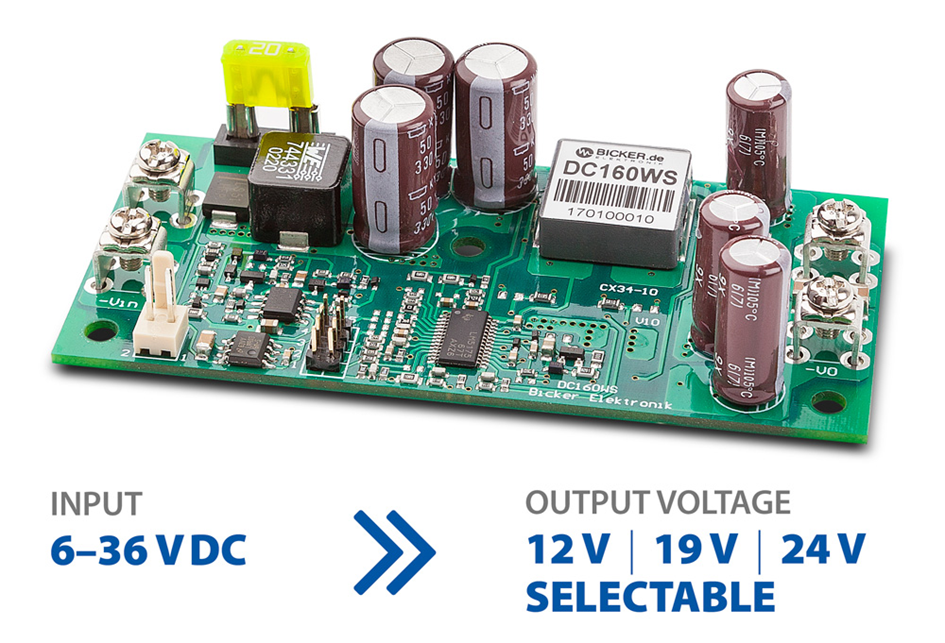 Fanless 160 Watt DC/DC converter with wide range input and three selectable output voltages!
The new Bicker DC/DC converter DC160WS delivers 160 watt continuous fanless power with a consistently high efficiency of up to 98%. In addition to the ultra-wide input range of 6 to 36 VDC, the compact converter offers three jumper-selectable output voltages 12, 19 or 24 VDC, so that almost any corresponding single-voltage mainboard or computer system can be supplied.
Developed for the long-term 24/7 continuous operation in extended temperature range from -20 to +70°C, the DC160WS is exclusively equipped with premium components of the highest quality (MTBF> 410,000 h).
The DC160WS has stable screw terminals at input and output – customer-specific connections are possible on request. A polarity protection at input as well as short-circuit, overvoltage and overtemperature protection are integrated as standard. In addition, a remote on/off signal input is available for external control. In addition to the long-term availability of at least 5 years, Bicker Elektronik grants a warranty of 3 years on the new DC/DC converter DC160WS.
Ideal for mobile applications and fanless Embedded Box PCs
The DC160WS is ideally suited for use in mobile applications within the 12 or 24V vehicle electrical system as well as for industrial applications with strong voltage fluctuations in a 12 or 24 VDC supply network.
Typical fields of application are demanding systems in industrial automation, mobile applications for transport, construction site and agricultural vehicles, pharmaceutical and food industry, as well as kiosk / POS / POI applications. With a base area of only 95 x 45 mm and an overall height of 1″ (25.4 mm), the highly efficient DC/DC converter can be ideally integrated into compact and closed IPC and Embedded Box PC systems.
Optimal heat management with contact cooling
The thermally optimized design ensures minimal heat build-up and high reliability. For optimal heat dissipation between the highly efficient power components on the circuit board bottom and the chassis of the application, the DC160WS already includes a suitable heat transfer pad and 5x distance bolts. In particular, the additional mounting hole in the center of the PCB ensures a permanently safe thermal connection to the housing.
All benefits at a glance
DC/DC converter with 160 Watt continuous fanless power
High efficiency up to 98%
Ultra-wide input voltage range 6…36 VDC
Selectable DC output voltage via jumper 12 V, 19 V or 24 V
Extended temperature range -20…+70°C
Remote On / Off input
Long-term reliability (MTBF> 410 000 h)
Compact and thermally optimized design
Suitable for reliable 24/7 continuous operation
Including thermal pad, jumper and distance bolts
for housing assembly
Customized connection plugs possible
Long-term availability at least 5 years
3 years warranty
Download datasheet or contact Nijkerk Electronics for more information