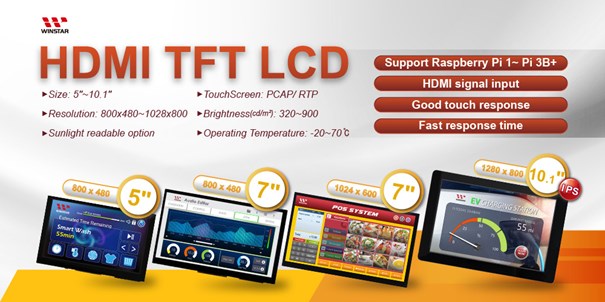 Winstar HDMI TFT-LCD Series
Winstar TFT LCD product portfolio come with HDMI interface TFT LCD modules, the HDMI Displays Family are designed to work with the Raspberry Pi or embedded system, single board computers (or desktop/laptops) which requires HDMI output. These series TFT modules come with a control board with HDMI interface; it is designed to make Raspberry Pi usage become easily. Please note the standard HDMI TFT modules which part number suffixed with "X" support Raspberry Pi 1~3 version only. If customers' application requires supporting Raspberry Pi3B+ version, please choose the module part numbers suffixed with "V" which support Pi3B+ version.
The Winstar HDMI TFT modules now are available in sizes 5″, 7″and 10.1 inch. We offer Resistive Touch Panels (RTP) and Projected Capacitive Touch Panel (PCAP) for each size. The HDMI TFT is becoming more popular, customers can simply use the HDMI TFT display with your Raspberry Pi, and also you can use it as computer display with any device which has HDMI output.
Check online for the specification including panel size, controller IC, brightness, as well as resolution. For more detailed information , or contact Nijkerk Electronics.