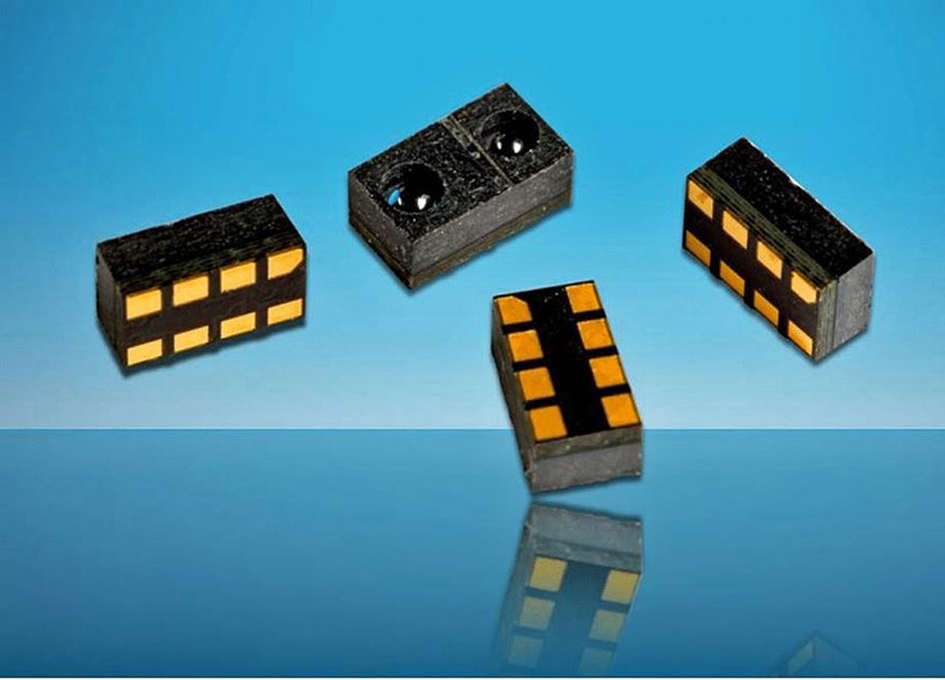 TT Electronics' New Reflective Optical Sensor and Fiber Optic Transmitters
(Feature Story in All About Circuits)
| | |
| --- | --- |
| | These new components debuted at Sensors Expo ahead of a new dev board for optical sensor development. AAC had the chance to speak to TT Electronics FAE Sergey Komarov at Sensors Expo 2019 about their new products and their applications. |
The OPB9000 Reflective Optical Sensor
TT Electronics' OPB9000 SMD reflective optical sensors can detect objects as far away as 50 mm using standard 90% reflective material, and can detect objects as small as 2.5 mm, depending on the object distance.
As Komarov puts it, "this is something we've developed that is somewhat unique in the marketplace. This is a programmable reflective sensor that is very miniature. It's got a reflective sensor, LED, and photosensor integrated on it with a lot of signal conditioning electronics, including a digital-to-analog converter, a Manchester interface, etc. It's got programmability capabilities."
An interesting note is the role of temperature in the operability of these components: "It's got temperature sensing so it senses the temperature of the environment and compensates for that. It adjusts the LED drive and output based on temperature variation, which is very important for portable applications where you go in and out, maybe in home healthcare equipment. It's also low power, which is also important for portability so it doesn't drain batteries."
Aimed at industrial and medical applications, the sensor features a 25k+ ambient light immunity that allows operation from dark rooms to bright sunlight. It can detect many types of media with as little as a 30% change in reflectivity, and it has a 6μs response time.
This reflective optical sensor integrated automatic temperature compensation maximizes detection consistency and reliability. The OPB9000 is factory calibrated at a 12 mm distance, and it can be re-calibrated in milliseconds with a single command with an on-chip EEPROM.
The unit's targeted applications include:
All non-contact position sensing and presence detecting applications
Industrial printing and high-speed paper detection
Manufacturing and automation
Automated banking machines
Hospital and lab equipment
Portable medical equipment
Automatic dispensing
Material handling and asset tracking
The SMD mounted device comes in a 4.0 mm, 2.2 mm package that is 1.46 mm high. It operates over a –40°C to +85°C temperature range, and can operate with supply voltage ranging from 2.7 VDC to 5.5 VDC.
Komarov calls the OPB9000 "best in class" for its type.
Filtering for Light Interference in Optical Sensors
One of the issues that optical devices come up against is interference from light, but Komarov asserts that this particular sensor is designed to "completely" filter ambient light out.
"It's got excellent ambient immunity up to 25,000W, which is basically full sunlight… so you just receive the signal."
And how do they achieve this filtering?
"The LED light is pulsed so it can filter out continuous light and only pick up the light that's sent by the LED. Because it's pulsed, it will know the frequency at which it's pulsed—and everything else, it doesn't matter how bright, the component will ignore that."
Dev Kit and a (Future) Dev Board
TT has a kit ready for those who'd like to give the sensor a try "We developed this kit specifically for engineers to try out and see the programmability feature. It comes with a USB stick with a GUI on it that they can install on their computer… They can plug and see how it works by testing it against different sources [suited to their application], whatever the need is. They can program this to detect, for example, water flowing. By default, it may not detect this, but you can program it [to do so]."
In addition, the company plans to release a dev PCB in the next month.
"So far, we've been selling this sensor by itself but now we've created a PCB that basically integrates all of the passives on it and has a connector." He says that this is intended for those who would like to use this sensor, adapt it, and use it in production.
OPF350A and OPF352A Fiber Optic Transmitters
Based on 850nm LED technology, TT Electronics' OPF350A and OPF352A fiber optic transmitters feature a combination of high speed and efficient coupled power.
According to Komarov, the OPF350 is basically the equivalent of TT's OPF370A product: "Last year was a supply chain bottleneck for many companies—long lead times," says Komarov. "So we went out and basically created a product that was equivalent to something we had but it can be delivered in 10-weeks' lead time."
Komarov adds that customers who have been working with the OPF370A can easily switch to the OPF350A, which is offered in a TO-18 package. "There's a little bit of variation," he says. "[Customers] will have to keep in mind when coupling it with fiber with a diameter other than 50/125 μm. It might have a variation in terms of output power." He went on to clarify that these variations should not be significant enough to cause issues for typical applications. "There's no signal loss and actually coupling into wider fiber, generally you want to have better coupling and more power because losses happen in the fiber, especially during transitions. So it's actually somewhat of a benefit. Other than that, it's a drop-in replacement [for the OPF370A]."
Likely product classes for these fiber optic transmitters will include:
Power generation communications
Copper-to-fiber media conversion
Industrial Ethernet equipment
Intra-system fiber optic links
Video surveillance systems
It is best suited for telecom and data-communication applications at up to 35 MHz and also applications that require high thermal stability in industrial settings for the temperature range of -40°C to 100°C. It's also designed to work with optical power with fibers that measure between 50/125µm up to 200/300µm.
The OPF350A. Image from TT Electronics
The OPF352A is a fiber optic transmitter, available in the ST-style receptacle. "The benefit of getting it in the ST connector is that it's already mounted in there," says Komarov, "but it's also been tested with the fiber cable already inserted into the connector to ensure all of the alignment, etc. is appropriate so you don't have any losses. This allows great optical coupling with the fiber."
According to TT, this component is suitable for PCB or panel mounting with an operating temperature range of -40° C to +85° C.
The OPF352A. Image from TT Electronics
For more information contact Nijkerk Electronics