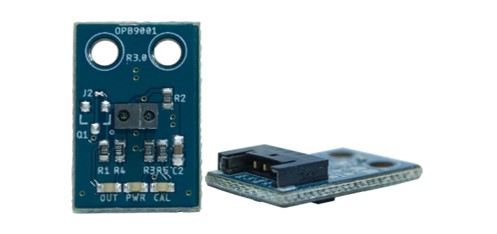 Wide operation supply voltage range up to 4,5 V – 30 V

Ambient light rejection 25k + lux

Integrated 4-pin connector

Small dimensions L 18 mm X W 12 mm X H 5 mm

Detecting distance 2,5 mm to 50 mm

Programmable output configuration and sensitivity level

-40°C to +85°C operation temperature range

The OPB9001 PCB module takes the versatile and programmable OPB9000 reflective sensor and enhances its capabilities by integrating multiple features into a robust, small form factor for ease of use.
The TT Electronics OPB9001 accepts a wide range of supply voltages from 3.3V to 30V and comes with built-in voltage protection for maximum flexibility and protection. An integrated, industry standard 4-pin Molex connector provides ease of connection while the onboard LED indicators provide overall status during power-on, output and calibration.
The OPB9001 is designed for portability in a variety of position and presence detect applications, with a small form factor (188mm x 12mm x 5mm) to fit in even the smallest application spaces.
The full-featured OPB9001AC includes a robust Transient Voltage Suppressor (TVS) diode to protect against harmful voltage spikes and is CE and UL certified for maximum reliability under any environmental condition. It is also capable of withstanding up to 8kV of contact discharge HBM.
Factory calibrated for a 12 mm distance and a white reflective surface the OPB9001 can be re-calibrated in a matter of milliseconds with a single command for specific application requirements. An interface cable can be purchased separately to calibrate the OPB9001 Series using the OPB9000-KIT.
The product has been assessed to meet high safety, health, and environmental protection requirements as determined by CE and EMC directives, providing for increased ESD and EMI immunity.
Applications:
Non-contact position presence applications

Industrial printing and high-speed paper detection

Manufacturing and Factory automation

Automated sewing machines

Automated banking machines

Medical equipment

Automatic dispensing

Material handling and asset tracking
Additional Features:
6ms response time

Wide operating supply voltage range
4.5 V to 30 V (OPB9001A/AC)
4.5 V to 24 V (OPB9001B)
3.3 V to 5.5 V ( OPB9001C)

Reverse voltage protection

Single-command calibration with on-chip EPROM

Temperature-compensated LED drive

Eliminate the need for external drive circuitry
Download datasheet

Or contact Nijkerk Electronics for more information