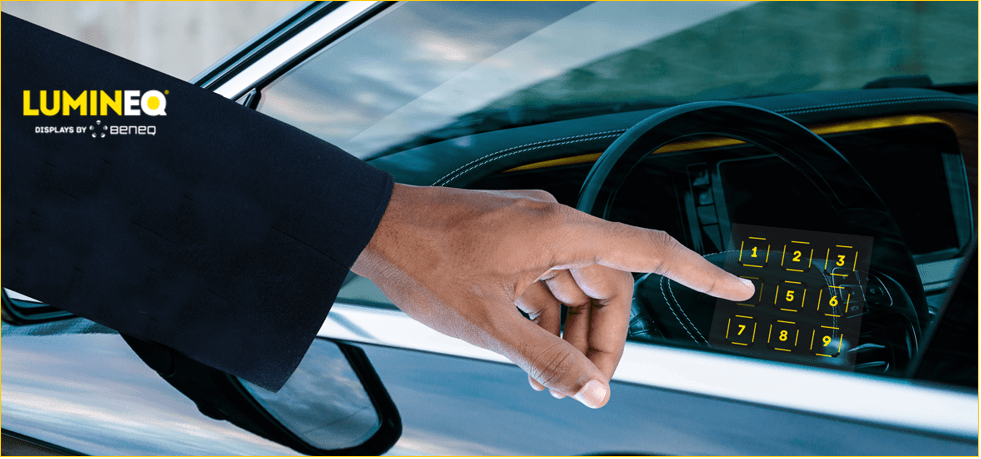 Introducing touch-enabled Lumineq transparent displays
Beneq's Lumineq® transparent displays, enabled by atomic layer deposition (ALD), are the world's most transparent and reliable displays. Lumineq transparent displays are used in applications where fully transparent display properties are required. Transparency requirements may be for functional reasons – to display critical information in the line of sight, or for aesthetic reasons – to combine transparency with 360° viewing angles and jaw-dropping design.
The world's most transparent displays are now expanding their already revolutionary technology and bringing you touch capability!
The new Lumineq touch technology (Lumineq Touch) opens endless possibilities for applications requiring transparent displays.
Open a new window in display design with Lumineq Touch
Where there's glass, there's a window of opportunity for integrating touch-enabled Lumineq transparent displays. Thanks to Lumineq's transparent technology, Lumineq Touch blends in perfectly with its design surroundings.
Vehicle window keypad concept
Lumineq Touch technology is excellent in vehicular window designs for:
Unlocking your car door
Entering a code for car sharing vehicles
Adjustable sunroof dimming – go from dark to clear with a single touch!
Lumineq Touch transparent display vehicle code lock concept
Smart window keypad concept
Smart interior designs demand smart technological implementations, and there's nothing cooler than touch glass displays in homes and offices. Lumineq Touch technology is excellent:
As a security door's keypad
As a clear display for window glass
As an entry pad for meeting room doors
For adjustable window dimming

Lumineq Touch transparent display security door keypad concept
Any glass surface can become a touch-enabled display
You can go even further in cool and simple design by elegantly integrating display technology in interior design and décor.
Add touch-enabled transparent displays to all types of glass surfaces
Let your imagination flow!

Lumineq Touch transparent display volume keypad concept
Kiss complexity goodbye
Lumineq Transparent Thin Film Electroluminescent displays (TASEL) comprise a solid-state glass panel and electronic control circuit. The glass panel consists of a luminescent phosphorous layer sandwiched between transparent dielectric layers and conductive ITO electrodes. A pixel/segment is lit by applying voltage to the electrodes, causing the area of intersection to emit light.
The functional thin film layers are manufactured using ALD. ALD enables very precise nanometer–thick, pinhole–free and totally conformal thin films making the Lumineq transparent displays reliable and inherently rugged with unique transparency and performance characteristics.
The new Lumineq Touch technology is fully integrated into the segmented Lumineq transparent display technology and does not make the display glass panel any thicker, heavier, complex or any less durable. Lumineq Touch uses unique In-Cell PCAP where the touch sensors are integrated directly in the already existing functional layers of the display technology. There are no additional layers, as the touch sensitive areas use the existing indium tin oxide (ITO) layers that are used for the electroluminance display.

Lumineq Touch transparent display technology layers:
1. Glass, 2. ITO, 3. phosphor layer (DSD), 4. ITO, 5. glass
Lumineq Touch also integrates with Lumineq in-glass laminated displays.
For more information:
Nijkerk Electronics BV
Willem Fenengastraat 12
1096 BN Amsterdam
Netherlands
https://www.nijkerk-ne.com/
vincent.bekhuis@nijkerk.nl