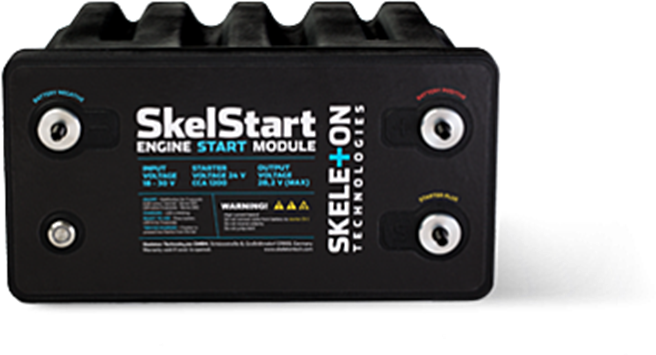 A powerful module for reliable engine starting for large diesel engines under all weather conditions
The SkelStart Engine Start Module is the most powerful module for engine starting applications in the world. It's based on Skeleton Technologies' industry-leading SkelCap ultracapacitors, which have the highest power density on the market.
Batteries are the leading cause for engine starting problems because of their short lifetime and vulnerability in extreme weather conditions. SkelStart takes the demanding job of starting the engine, protecting the battery and increasing its lifetime. SkelStart's effective operating temperature range is from -40°C to +65°C , which makes it a perfect fit for bus, truck, rail and heavy equipment applications.
SkelStart Engine Start Modules
| | | | | | |
| --- | --- | --- | --- | --- | --- |
| SkelStart | Voltage | CCA | Working temp. | Weight | Engine size |
| SkelStart 12V | 12V | 2133 CCA | -40ºC to + 65ºC | 8 kg | Up to 27L (per SkelStart) |
| SkelStart 24V | 24V | 1206 CCA | -40ºC to + 65ºC | 8 kg | Up to 27L (per SkelStart) |
Applications
SkelStart ultracapacitor module can be used for example in the following industries
Busses
Batteries are an unreliable at engine starting, especially at low temperatures. SkelStart provides many times the starting power compared to a battery, even at -40°C. Ideal for engine starting and start-stop applications.
Generators
Batteries lose their charge over time. SkelStart will provide the highest cranking current to your gensets – in any conditions.
Heavy machinery
Every minute counts when working with heavy machinery and with SkelStart installed, you can be sure there is no downtime because of battery or starting problems.
Maritime
Do you trust your batteries to start the engine when it really matters? SkelStart can save your time, money, nerves, and even your life by making sure you always get home.
Trucking
SkelStart delivers much higher cranking power than batteries and does it effectively even at -40°C. Install SkelStart, and you can stop worrying about what your energy consumers are doing to your batteries.
SkelStart movie
https://www.youtube.com/watch?v=yQLsGzCqHuk
For more information contact Nijkerk Electronics