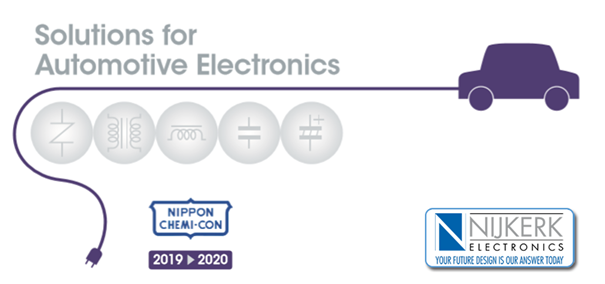 Nippon Chemi-Con offers a large range of capacitors for automotive applications. In this brochure they have collected products for automotive applications with representative circuits.
Use it to search for products for automotive applications.
AEC-Q200 Qualified
The Automotive Electronics Council (AEC) was originally established by major American automotive related manufactures. Today, the committees are composed of representatives from the sustaining Members of manufacturing companies in automotive electrical components. It has standardized the criteria for "stress test qualification" and "reliability tests" for electronic components.
AEC-Q200 is the reliability test standard for approval of passive components in Automotive applications. It specifies the test type, parameters and quantity, etc. for each component. The criteria of the reliability tests such as for our main products, "Aluminum Electrolytic Capacitors" are described in this standard.
Pursuant to the customer's specific testing requirements, Nippon Chemi-Con submits the test results according to AEC-Q200 for Aluminum Electrolytic Capacitors used in automotive applications on request.
An electronic component manufacturer cannot simply claim that their product is "AEC-Q200 Qualified". It can be claimed "Compliant"," Capable","Available", etc., however each component must be tested per each users "Qualification Test Plan" in order to claim AEC-Q200 status.
Download the Nippon Chemi-Con Automotive brochure
Contact Nijkerk Electronics for more information.