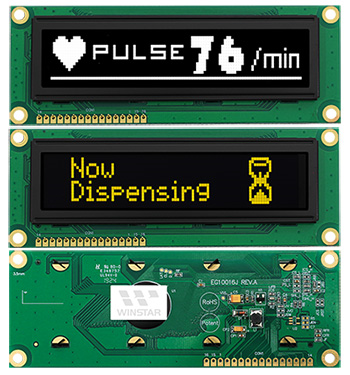 OLED COB Graphic WEG010016J
Winstar WEG010016J is a monochrome Graphic OLED display module which has a very high contrast ratio with an extremely dark background versus the lit-up pixels on the display. This 3.84 inch monochrome 100×16 passive matrix OLED display module features a very wide viewing angle up to 175°. WEG010016J is COB structure OLED, it is built in with WS0010 IC, default 6800 interface, optional for 8080 and SPI interface.
The supply voltage for logic is 5V, driver duty 1/16, its operating temperature is -40℃ to +70℃; and storage temperature ranges are -40℃ to +85℃. Our promote colors are White and yellow for this item.
For more information, contact Nijkerk Electronics.
Source Winstar