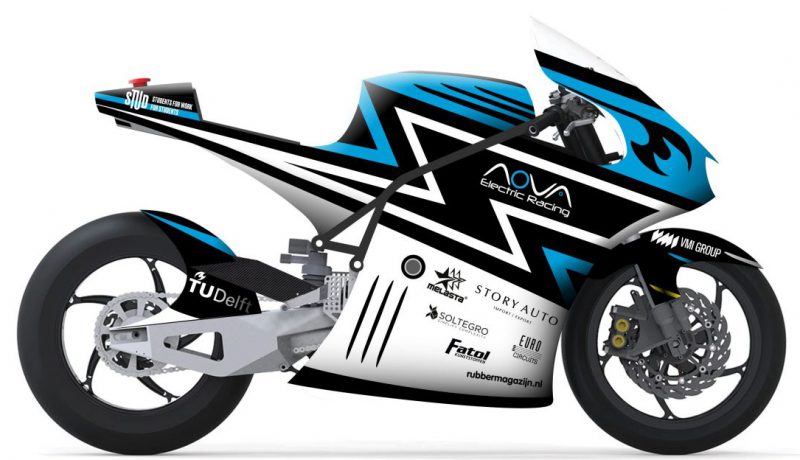 Nova Electric Racing is a non-profit organization consisting of a multidisciplinary team formed by students from different faculties of the Delft University of Technology and Universities of Applied Sciences. The team wants to promote the use of sustainable energy in the world of motorcycle racing without a compromise on performance parameters like speed and acceleration. The Nova Electric RacingTeam can count on the support of Nijkerk Electronics and their supplier Gigavac for the robust relays.
10th team, goals for 2019
The 10th team of Nova is going to bring a newly designed and built electric motorcycle for the Racing Season of 2019. The team is going to participate in the Open eSBK tournament, and they aim to establish the new track record on the Assen TT circuit for an electric motorcycle.
The Open eSBK is a fully electric competition, with its first season taking place in summer 2019. It involves more than 12 teams and will take place on different circuits all around Europe.
Electric Motorcycle Specifications
At the moment Nova is working on the NovaBike 10, the 4th iteration of the Nova Electric Bike. Of course the goal of the team is to improve the design of the NovaBike 09.
Specifications NovaBike09 (Season 2018)
| | | |
| --- | --- | --- |
| Powertrain | Battery | Chassis |
| MOTOR | TYPE | FRAME |
| Emrax 268 | Lithium Polymer Cell 700V | Steel Welded Trellis |
| TORQUE | CAPACITY | SWINGARM |
| 125 Nm | 12.0 kWh | Aluminium Welded |
| REAR WHEEL TORQUE | DURATION | LENGTH |
| 500 Nm | 15 mins | 2033 mm |
| POWER | RECHARGE TIME | WHEELBASE |
| 140 kW | 190 hp | 2 hours | |
| TOP SPEED | | WIDTH |
| 220 km/h | | 700mm |
| 0-100 TIME | | HEIGHT |
| 3s | | 1100mm |
GIGAVAC Robust Relays
Nijkerk Electronics sponsors the relays of Gigavac. The relays of Gigavac are able to withstand the high voltage and high current battery pack, so the motorcycle can deliver the highest power but can also switch it off whenever the NovaBike team wants. Nijkerk Electronics and Gigavac sponsors relays of the GX and the MiniTACTOR series.
GIGAVAC GX SERIES
GIGAVAC presents the GX Series EPIC® (Extended Performance Impervious Ceramic) sealed DC Contactors and AC contactors. GX Contactors can switch DC loads at both low and high voltage from 12 to 800VDC. These small RoHS compliant hermetically sealed contactors can be mounted in any position, can be used in nearly any harsh environment including under water and at temperatures from –55°C to 85°C. They are the preferred contactor (they are also sometimes called a relay or solenoid) for heavy trucks and equipment, busses, emergency vehicles, electric vehicles, hybrid vehicles, boats, light rail, mining, oil and factory automation, power management systems for battery charging, fuel cells, battery backup, solar, wind and wave power systems where long life and high reliability are needed. Most are cruus recognized.
GIGAVAC MiniTACTOR™ series of power contactors
GIGAVAC's line of patented switching devices, MiniTACTOR™ series of power contactors are small, lightweight and cost effective. Designed and manufactured in the USA, the hermetically sealed GIGAVAC MiniTACTOR™'s join GIGAVAC's line-up of other sealed switching products including High Voltage Relays and EPIC® sealed contactors. At less than four ounces (100 grams), the GIGAVAC P105 and P115 can easily be installed in any orientation on a panel in a matter of seconds. A sealed chamber for both contacts and coil assures clean switching in any environment. Safe make and break power switching can be achieved at any voltage up to 1500Vdc. With bi-directional switching capability and current carry to 50, the MiniTACTOR™ is the perfect choice for pre-charge, charge and solar applications. The UL Certified, cruus, P115 MiniTACTOR™ is the noted solution for compliance with solar energy requirements under NEC 690.11 and NEC 690.12. Both MiniTACTOR™ models have performance specifications that you would expect in far more expensive contactors.
For more information:
Nijkerk Electronics BV
Willem Fenengastraat 12
1096 BN Amsterdam
Netherlands
https://www.nijkerk-ne.com/
Ron.Morreau@nijkerk.nl
Nijkerk Electronics NV
Romeynsweel 7
2030 Antwerpen
Belgium
https://www.nijkerk-ne.com/
Alain.Huysmans@nijkerk.be