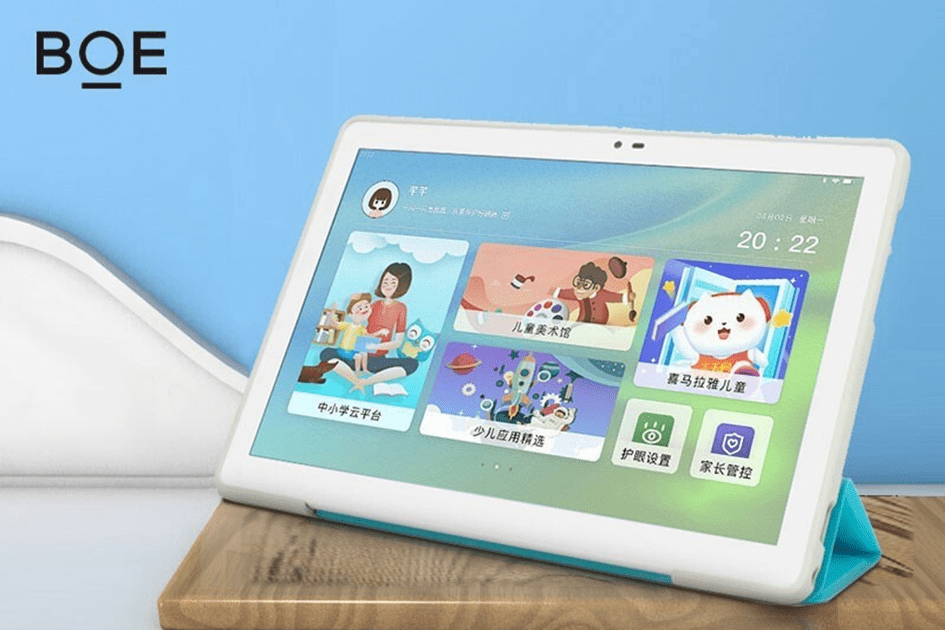 BOE has unveiled its new paperlike student tablet – the Funbook E3, which features eye-friendly displays and applications as well as professional services, providing comprehensive protection for the eye health of users, especially young people.
The 21.5-inch Funbook E3 was launched by BOE Art Cloud, a subsidiary of BOE specializing in digital art and smart education. The product meets the"6E paperlike eye care standards"(Eyehealth – Concept, Eyehealth – System, Eyehealth – Technology, Eyehealth – Application, and Eyehealth- Service). With reference to medical research results, it is a system-level eye-friendly display device based on the H.629.1 digital art display standard developed by BOE Art Cloud and the company's non-destructive gamma display patent and flicker-free technology patent. On the basis of the existing paperlike eye care technologies such as low blue light, flicker-free, anti-glare and smart light sensing technologies, the product also leverages AI ambient lighting monitoring and smart dimming technologies to automatically match the screen brightness and ambient lighting to reduce eye strain. Plus, its usage time reminder and brightness reminder features enable users to manage their screen time effectively. Thanks to its outstanding technical strengths in eye care, the Funbook E3 was awarded the world's first low visual fatigue (WVF) certificate by SGS and the China National Institute of Standardization (CNIS) and obtained certification from TÜV Rheinland. In addition to its remarkable performance in eye care, the Funbook E3 comes with powerful interactive features and a wealth of applications and has quickly gained popularity. With sales reaching RMB16 million on the June 18 shopping festival, it seized top spot on Tik Tok's ranking of electronics and home appliances and ranked among the top five across all categories, reflecting BOE's dedication to eye care for young users.
Yao Xiangjun, Executive Vice President of BOE and Chairman of BOE Art Cloud, said that vision has become a public health concern, especially for children. In the digital era, screens play an important role in classroom learning, online learning and extracurricular entertainment. By combining optometry and display technologies, BOE Art Cloud has rolled out a range of paperlike eye-friendly display technologies and eye care features that have been widely applied to Funbook, BOE iGallery and other products. This reflects its unceasing endeavor to develop eye-friendly display products and services and protect people's vision with innovative technologies.
Nowadays, parents generally prefer eye-friendly electronic devices for their children. BOE Art Cloud and Beijing Tongren Hospital affiliated to Capital Medical University jointly established the Eye health Research Institute to improve the paperlike eye care technology systems in terms of display hardware technology, eye care monitoring application, medical research, authoritative certification, etc. Backed by the four platforms for eye care mechanism research, eye-friendly display technology, eye health screening and monitoring, and eye health big data, the Eye health Research Institute harnesses the power of both technology and medicine to innovate in paperlike eye care technologies. A number of its technologies have been patented and/or obtained certifications from TÜV Rheinland and VDE. In 2021, the institute independently developed the electronic home vision chart and paperlike display with wide viewing angles, enriching the categories of paperlike eye-friendly software and hardware. According to clinical evaluation reports, compared with regular displays, paperlike displays are more comfortable to the eyes and can reduce visual fatigue. The electronic vision chart is suitable for large-scale vision screening or at-home vision monitoring and offers various advantages. Therefore, it holds high clinical value and is a proven eye-friendly device.
BOE Art Cloud has forged cooperation and carried out a number of eye care projects with Eye Hospital of Wenzhou Medical University, Eye & ENT Hospital of Fudan University, the Institute of Child and Adolescent Health of Peking University, Aier Eye Hospital Group, MDG Group, Eye Hospital Group Co., Ltd. and Hoson Foundation, among others. The solid medical research results will be successively applied to a range of BOE's paperlike display products such as Funbook, BOE iGallery and monitors.
Into the era where displays are ubiquitous, BOE has developed futuristic eye care technologies to protect the vision of users of different age groups. In the future, BOE will further underpin its paperlike eye care capabilities through continuous innovation in display hardware, IoT applications and eye care services to empower various application scenarios such as museums, campuses, businesses and communities, creating an amazing and reassuring visual experience for users.
If you want more information or if you have any questions about this product, please contact Nijkerk Electronics!