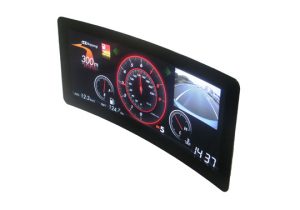 Mitsubishi Electric Corporation (TOKYO: 6503) recently announced that it has established mass-production technology for a new curved (concave) color TFT-LCD module that combines environmental ruggedness to withstand extreme temperatures and an attractive design, making it ideal for use in automobiles and leisure boats. The module offers a curvature radius from 700mm to less than 1,000mm and optical performance equivalent to that of flat screens. Mitsubishi Electric is now accepting orders for the new module.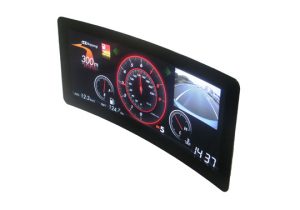 Curved Color TFT-LCD module with newly developed technology(800mm curvature radius)
The new module has been exhibited at bauma CHINA 2018 in Shanghai, China from November 27 to 30.
Product Features
1) Mass-production technology for TFT-LCD module with curvature radius of 700mm to under 1,000mm
– Efficient, stable production realized through optimized mechanical design and TFT panel design with
consideration for curvature tolerance
– New mass-production technology ensures fast, high quality production with one-stop solution covering
everything from TFT panel production to bonding of curved cover glass
2) Curved display performance equivalent to that of flat display
– Optimized mechanical and TFT panel designs achieve white and black luminance uniformity
equivalent to that of flat displays
– Excellent visibility, even in bright environments, thanks to super-wide viewing angles of 176 degrees,
both horizontally and vertically, high brightness of 1,000 cd/m2
and high contrast ratio of 1,000:1
– High-resolution (167-190ppi) display capably handles rich information
– Vibrant color visibility achieved with enhanced color reproduction (NTSC ration Typ.84%)
– Unmatched operating temperature range from -40 to 85 degrees Celsius withstands extreme
temperatures.
Environmental Awareness
The model is mercury-free and fully compliant with the Restriction of the Use of Certain Hazardous
Substances in Electrical and Electronic Equipment (RoHS) directive 2011/65/EU.
For more information:
Nijkerk Electronics BV
Willem Fenengastraat 12
1096 BN Amsterdam
Netherlands
https://www.nijkerk-ne.com/
vincent.bekhuis@nijkerk.nl