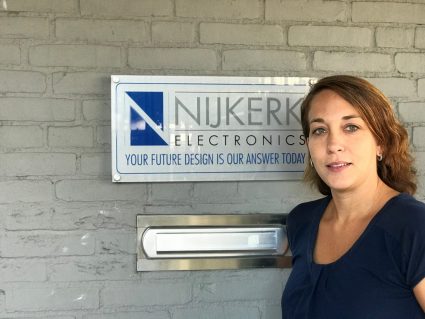 Since the beginning of May, Ilona Hokkeling is the new Logistics Manager at Nijkerk Electronics. Ilona has been working for Nijkerk for more than 15 years and she knows the company and its processes very well. However, even for her, the start in the middle of the Covid-19 pandemic was an immediate challenge. Ilona would like to introduce herself and tell you how she has experienced her first months as a logistics manager.
At Nijkerk Holding since 2005
Ilona is 35 years old, has been married for 12 years and is a mother of a 6 and 7 year old. Her career started at Nijkerk in 2005. Ilona: "In 2005 I started at Nijkerk Computer Solutions. In 2008 I made the switch to Nijkerk Electronics. At Nijkerk Electronics I started as a Sales Assistant, later the office manager tasks were added. Now, a new chapter begins in the role of Logistics Manager."
Beginning as Logistics Manager
Former logistics manager Herman Stoelinga retired in May. Ilona was ready to succeed him and is looking forward to her new challenge. Ilona: "It is my responsibility to deliver anything that the sales department sells, to the customer in time. This entails everything from the order to the delivery of that order to the customer. I am in direct contact with the manufacturer, the customer, the logistics partners and also the internal organization. It is my job to make this whole process run as smoothly as possible."
Covid 19 immediately created challenges
Ilona didn't have time to quietly get used to her role. At the beginning of May, the Covid-19 pandemic was in full swing and Nijkerk had to deal with an abnormal situation as well, particularly in logistics. Ilona: "Our components are delivered from countries all over the world. The Covid-19 virus spread around the world and different countries were locked down at different times. As a result, we ran into other logistics challenges everywhere. This varied from closed factories to the impossibility to ship the components due to insufficient transport capacity. Despite all these and other challenges, we managed to get the majority of the components to our customers in time!
Ideas for the future
Ilona sees plenty of opportunities to further optimize and digitize logistical processes. But before starting new projects, she will first focus on the internal organization. Ilona: "Because of my new role as logistics manager, I have left a space for someone to fill in my former position. Fortunately, we have also been able to find someone for this position. But with new people in new places, it is important that people are fully educated and trained in the logistic procedures within Nijkerk Electronics. Then we will begin new projects. I am convinced that this can be done quickly!"
Contact details:
Ilona Hokkeling- de Wit
Logistics Manager at Nijkerk Electronics
E: ilona.hokkeling@nijkerk.nl
T: +31 (0)20 504 14 24