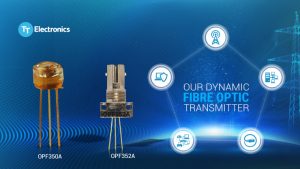 03 April 2019
TT Electronics, a global provider of engineered electronics for performance critical applications, is launching the OPF350A and OPF352A evolved fibre optic transmitter solutions based on 850nm LED technology. Engineered for field-proven reliability and consistent high-output performance, the new devices enable equipment makers to reduce turnaround times and simplify procurement and planning. Lead-times for the solutions are also improved to ten weeks.
The OPF350A and OPF352A are equivalent alternatives to the existing OPF370A and OPF372A products and come with the same ST-style package. The new fibre optic transmitters also improve performance with up to 8% more optical power with various fibre sizes such as 50/125μm-200/300μm.
The new devices are ideal for telecom and data-communication applications at up to 35MHz. Typical uses include power generation communications, copper-to-fibre media conversion, industrial Ethernet equipment, intra-system fibre-optic links, and video surveillance systems.
The OPF350A in TO-18 package is chosen for applications that demand high thermal stability across the industrial temperature range of -40°C to 100°C, and offers a robust alternative to the OPF370A in addition to shorter lead times.
The OPF352A in the ST-style receptacle is suitable for PCB or panel mounting. It is supplied pre-mounted, pre-tested with fibre to assure performance, and ready to use, with essential fixings and a protective dust cap included.
For further information please visit the OPF350A datasheet and the OPF352A datasheet or contact Nijkerk Electronics.
Nijkerk Electronics
Visit Nijkerk Electronics at the Electronics & Applications fair (stand 7C089). Register now!

Or contact Nijkerk Electronics.
Nijkerk Electronics BV
Willem Fenengastraat 12
1096 BN Amsterdam
Netherlands
https://www.nijkerk-ne.com/
vincent.bekhuis@nijkerk.nl
Nijkerk Electronics NV
Romeynsweel 7
2030 Antwerpen
Belgium
https://www.nijkerk-ne.com/
Alain.Huysmans@nijkerk.be