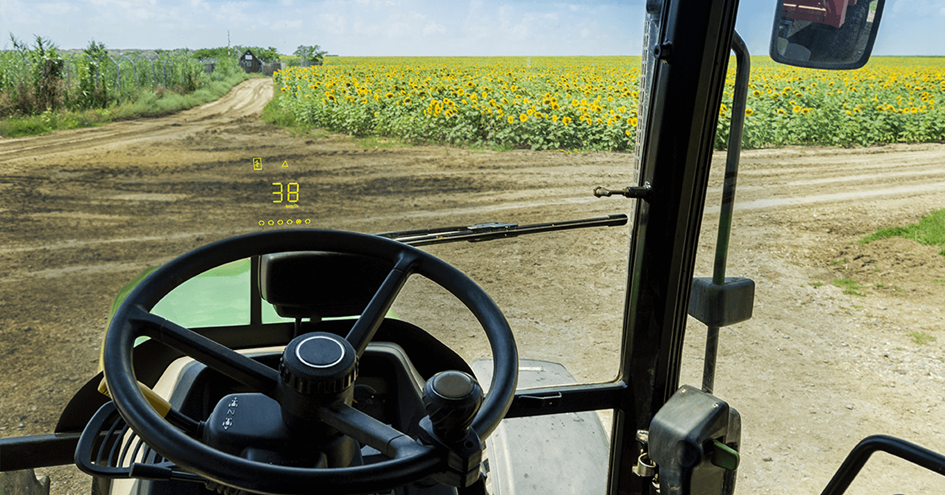 In-glass laminated displays (IGLD) empower you to wow your customers by turning glass windows into see-through interactive displays. So far, LUMINEQ transparent displays have been integrated in vehicle windshields, train windows, naval bridges, airplane windows and architectural glass. But this is just the start – the number of potential applications areas is much higher.
In this article we introduce how in-glass displays add safety to heavy machinery, improve ergonomics and efficiency in the industrial market.
Professional HUD's for industrial vehicles.
Transparent LUMINEQ displays improve safety, ergonomics and situational awareness in vehicle cockpits. Given that the displays are very rugged and tolerate extreme conditions better than any other display type. The technology behind our displays is perfect for environments where the conditions are harsh and challenging.
Transparent displays in vehicles often have a positive impact on ergonomics. Placing the display in the right place and right height can, for example, prevent repetitive head movements required to see crucial information. This also enables the driver to keep he's view on the work (line of sight) as well as not missing out any crucial information due to information overload.
Laminating a Display in a windshield enables an exceptionally wide viewing angle (360°) and saves space from the already crowded cockpit. The information displayed on a windshield can be read from the inside as well as the outside of the vehicle.
Ergonomics and safety of heavy equipment, such as tractors, cranes and loaders, can be considerably improved with see-through displays. With well-placed information in the confined cabins, the operator can e.g. avoid unnecessary repetitive movements made in effort to check critical information. Displays can also be used to inform the people working outside the machine. This way the ergonomics and safety of both the people in and outside the machine can be enhanced.
LUMINEQ in-glass display laminated on forklift sunroof glass
Customer Case: Valtra
The tractor solution pioneer Valtra contacted LUMINEQ back in 2017 with a vision in mind. They wanted to improve vehicle safety, ergonomics and situational awareness in their cockpits while operating the tractor in demanding conditions.
By displaying critical information in the line of sight, SmartGlass HUD greatly improves safety and ergonomics of the operator. While focusing on the front loader work, the operator can see various information such as the loader height, load weight, driving speed, and engine rpm, without needing to look away from the work at hand.
The SmartGlass can also display information to people outside the tractor. For instance the fuel level can be showed to the operator when he is outside the tractor filling the fuel.
This concept was first introduced at 2017 Agritechnica and received lots of positive customer feedback. After two years' intensive testing and improvements, Valtra SmarGlass is now made available as an option via the Unlimited studio. It was announced that after Agritechnica 2019. Valtra will release 20 pilot units to selected customers and serial production is planned for later in 2020.
For more information contact Nijkerk Electronics.