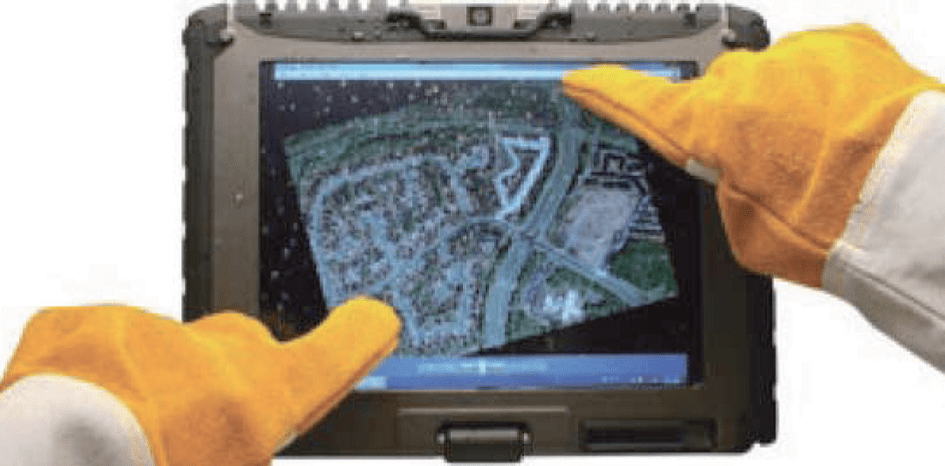 Mildex Optical Inc, a worldwide leader in resistive touch screen technology offers a 10-point multi-touch solution based upon proprietary resistive touch technology.
Equipped with superior optical characteristics and dedicated controller the Mildex RMTS is the number one choice for industrial, medical and military applications, where true multi-touch functionality is required in rugged and harsh environments, and where "gloved hands" or Stylus interface are essential.
The utilization ranges from MIL-notebooks to industrial HMIs and even medical applications, where isotonic liquids on the surface do not allow any capacitive solutions. With EMI micro mesh front surface a complete Faraday Cage Solution can also be achieved. This solution can replace a multitouch PCAP where using a PCAP is not applicable due to harsh EMI, EMC requirements as well as challenged PCAP performance due to conductive liquid in combination with gloves.
Features:
Standard sizes available
Controller Board included
Processor speed up to 24 MHz
Support up to 4096 x 4096 (12 Bit) resolution
True Multi-Touch: 10 Point Gesturing
Auto noise filter function
Interface: USB Software protocol interface
Windows: WIN7, WIN8 & WIN 10
RoHS-Lead Free Compliant
Specifications:
Number of Simultaneous Touches Support
Position Accuracy
Touch System Resolution
Software Interface
Light Transmission
Touch Controller Board Interface
Operating Voltage
Operating Temperature
Storage Temperature
Relative Humidity
Front Surface Hardness
Sunlight Readable enhancements:
Full 10 Point Multi-Touch
± 2.5mm (Per Windows WIN7 Spec)
12 Bit (4096 x 4096)
Windows WIN7, WIN8 & WIN10
78%
USB
3.3Vdc
(-20C to +80C) (Controller IC:-40C to 85C)
(-40C to +85C) (Controller IC:-65C to 150C)
Humidity: 90% RH at 60ºC
Glass/Film/Glass: >7H MOHS 5 Film/Glass + Hard Coat >3H
Polarizer Angles: 0, 45 & 135 degrees
Controller Board Specifications:
Touch Screen
Communications Protocol
Resolution
Resistance Range
Operation Voltage
Power Consumption
Operating Temperature
Storage Temperature
Electro-Static Discharge
Operating Systems

Supports up to 90 channels resistive multi-touch
USB 1.1 Full Speed Interface
4096 × 4096 (12 Bit)
Pin to Pin above 50Ω
+5Vdc ± 5% (Inner regulator on chip to 3.3V)
Max 40 mA
-30˚C – +80˚C
-40˚C – +85˚C
Air: 20kV Contact: 8kV
Windows WIN7, WIN8 & WIN10, Linux: 2.6.38 & above , Android: 4.0 & above
For more information, please contact Nijkerk Electronics.