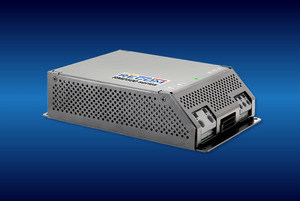 Recom 500W Railway Compliant DC/DC is 'Plug and Play'
The latest addition to RECOM's railway portfolio is the RMD500-EW series. Featuring 500W rating with a wide 4:1 (43-154VDC) input range (170V peak) and 24V output, the product is suitable for nominal 72V and 110VDC inputs with tolerance and surges according to EN 50155. The RMD500-EW is designed for 'plug and play' use with all features required by EN 50155 included: reverse polarity protection, EMC and surge filtering, inrush current limiting and 10ms hold-up time. All relevant rail environmental standards are met for conducted and radiated EMI, mechanical shock and vibration, thermal shock, temperature cycling and fire protection.
Output power is 500W up to 95°C baseplate temperature without derating, allowing operation from -40°C to typically +70/85°C ambient temperature, meeting EN 50155 OT4 + ST1 and ST2 conditions. Efficiency is high at up to 95.5% over a wide input range and down to light loads, allowing high power density in a compact 209 x 141 x 48mm baseplate-cooled package, which can be mounted in any orientation. Screw terminals are provided for convenient input and output connections.
The product is certified to EN 62368-1 and EN 50155 (S2) with 3.5kVAC rated isolation. The product is extremely reliable and robust with full protection included against short-circuits, output over-voltage, over-current and over-temperature. Other features include DCOK volt-free relay contacts, remote ON/OFF, output trim, and active current sharing with OR-ing diodes for parallel operation, when increased power or n+1 redundancy is required.
Further products in the series are in the pipeline for launch in 2022 with power ratings of 300W and 150W for wider rolling stock and trackside applications.
Marco Kuhn, Mobility Product Manager of RECOM comments: "The RMD500-EW is the first in a standard range of 'plug and play' DC/DCs from RECOM for rail applications, such as traction and propulsion auxiliary supplies, braking, monitoring, safety, HVAC and door control systems, data loggers and much more. With all functions and features integrated, they are truly 'plug and play'".
If you want more information or if you have any questions, please contact Nijkerk Electronics!